Cappadocia Uchisar 2023 (The Best And New Information)
Cappadocia Uchisar is the most important city in Cappadocia. If Goreme is hidden deep in a tuff basin, Uchisar dominates a large area. It serves as a good reference point in Goreme National Park: As soon as you turn your head out of a gorge, two rocks of Uçhisar immediately come into view: One broad, robust, and the narrow one next to it, slightly lower. For those coming to Cappadocia from the west (from Nevsehir Airport or by car from Antalya), Cappadocia starts from Uchisar.
Places to Visit in Cappadocia Uchisar
Check out the must-see places in Cappadocia Uchisar:
Uchisar Castle: You can witness the magnificent view of the region from the top of this castle.
Pigeon Valley: This unique valley is worth seeing the rock holes where the pigeon nest and the scenery.
Love Valley: This is a popular place for couples and lovers to spend time with their loved ones.
Avanos: This is a town where ceramics are made along the famous Kizilirmak River. You can visit the ceramic workshops.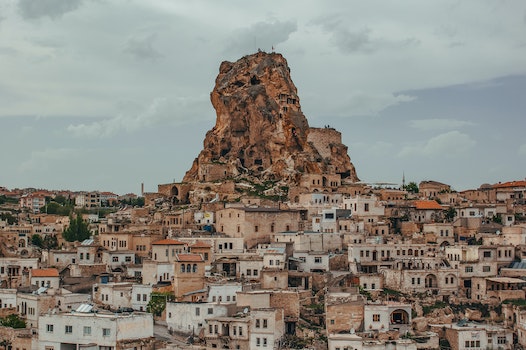 Goreme National Park: The universality of the visual feast and atmosphere created by Goreme National Park has been registered by UNESCO World Heritage List. The fairy chimneys of Cappadocia, one of the most exciting places in the world, which hosted the first Christians in the 7th and 13th centuries, display the appearance of a quiet and crowded city in the Goreme Valley between Hasan Mountain and Erciyes. The shapes that the tuffs emanating from the mountains take with the erosion of the wind and water over time have made each fairy chimney a work of art. The churches of the first Christians carved into the rocks and the wall paintings inside the churches are worth seeing.
How to Get to Cappadocia Uchisar?
You can go to Cappadocia Uchisar in many different ways. The nearest airport is Nevsehir Cappadocia Airport, and you can reach Uchisar by bus or taxi from here. There are also direct services from the Nevsehir bus terminal to Uchisar. Cappadocia Uchisar is approximately 5 km from Nevsehir city center.