Antalya Karain Cave 2023 (Step into the Past with the Best Guide at Karain Cave)
Antalya Karain Cave is a huge natural cave in Turkey with a rich history. Visitors are fascinated by its historical significance and awe-inspired by entering rooms where people lived 500,000 years ago. It is Turkey's largest known inhabited cave.
Antalya Karain Cave Features
Antalya Karain Cave is unique among Antalya's caves, known for being the largest inhabited by humans. It was formed by the merging of corridors and rocks. Greek inscriptions and settlement remnants, dating from Lower Paleolithic to Late Roman periods, have been discovered. Visitors should dress comfortably and bring water for the tiring descents and dives, but the natural beauty and charming atmosphere make it worth it.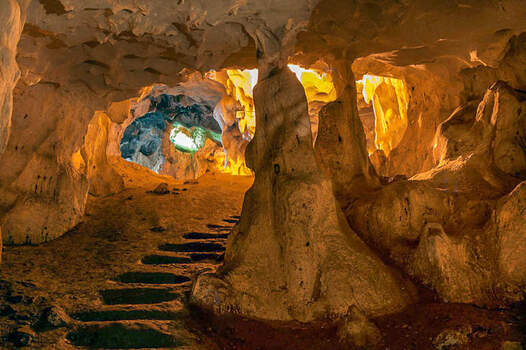 Antalya Karain Cave is a must-visit for history enthusiasts. After learning about history in books, it's an opportunity to witness it in person. Explore this unique site to experience history firsthand.
Things to See in Antalya Karain Cave
Antalya Karain Cave offers a unique blend of history and nature for visitors in Turkey. Here's what to experience when visiting:
Explore the cave: Take a guided tour of Karain Cave and marvel at the stunning stalactite and stalagmite formations.
Learn about prehistoric life: Karain Cave was used as a shelter and dwelling place by early humans, and artifacts found in the area provide insight into prehistoric life.
Browse fossils: The cave contains a variety of fossils, including ancient animals and plants.
Enjoy the natural beauty: Karain Cave is located in a lush and scenic landscape surrounded by forests and rolling hills.
See the view: Visitors can enjoy panoramic views of the surrounding landscape from the top of the cave.
Overall, a visit to Karain Cave promises to be a unique and educational experience, offering a glimpse into the fascinating history and natural beauty of the area.