Antalya Duden Waterfall 2023: A Natural Wonder Worth Exploring
One of the places you must visit in Antalya is Antalya Duden Waterfall. Duden Waterfall is located in Duden Park, about 10 kilometers northeast of Antalya city center. You can easily access the park by car, bus or taxi.
There are two types of waterfalls in Duden. Upper Duden Waterfall locates in a park, and you can watch it from afar. Lower Duden Waterfall is more accessible, and you can watch it closely.
Things to do in Antalya Duden Waterfall
You can enjoy various activities at Antalya Duden Waterfall. Hiking paths allow visitors to explore the surrounding nature and approach the waterfalls. There are also picnic areas where visitors can dine while enjoying the scenery. In addition, Antalya Duden Waterfall is one of the favorite places of photographers due to its fascinating natural beauty. The waterfalls, the surrounding vegetation, and the rainbow created by the mist provide excellent photo opportunities.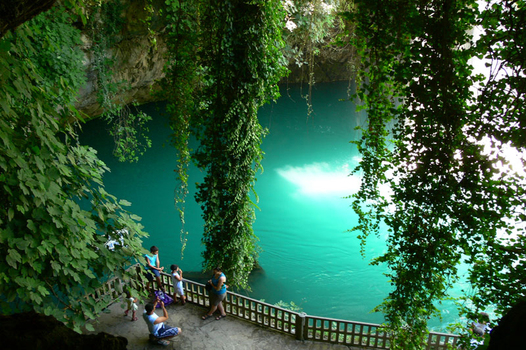 The best time to visit Duden Waterfall is in spring and summer when the waterfalls are full. However, visiting during the winter can also be a unique experience, as the frozen waterfalls and the surrounding nature create a magical atmosphere.
Duden Waterfall is a natural wonder worth seeing. Whether you're a nature lover, a photographer, or just want to spend a relaxing day outside, there is something for everyone at Duden Waterfall. Don't forget to bring your camera and capture the beauty of this fascinating destination!
How much is the Antalya Duden Waterfall Ticket?
Antalya Duden Waterfall ticket price is 10 TL. The Waterfall is open every day of the year.
How to go to Antalya Duden Waterfall?
You can use the buses in the city center to Antalya Duden Waterfall. Also, renting a car is very common in Antalya, and you can use this option to go to Duden Waterfall. Car rental offices are located in the city center and at the airport. Going to this Waterfall with the car you rent is pretty straightforward. Finally, you can walk to Duden Waterfall from Antalya city center. This option is ideal for those who want to explore the natural beauties and take a pleasant walk accompanied by the scenery.