Rafting in Antalya 2023 (The Best Places)
Rafting in Antalya is very important; there are many rivers where you can raft. One of the most popular rafting spots in Antalya is Koprucay in Manavgat. Apart from rafting, Koprucay is also very beautiful with its natural beauty. However, if you need advice about rafting in Antalya, Dimcay and Koprucay are very good.
Dimcay is a popular place in Alanya. In addition to rafting, there are also charming touristic facilities and restaurants. You can relax in the restaurants after rafting in Antalya. In addition, these restaurants also have natural swimming pools. Natural pools are formed by water flowing down the mountains. You can refresh yourself in ice water.
Koprucay locates in Koprulu Canyon National Park. This is one of the best canyons in Antalya. Many different events are held here. If you are on holiday in Alanya, Dimcay is better for you. Alanya Sapadere Canyon is also excellent. But if you are resting in and around Manavgat, Koprucay will be better.
Rafting in Antalya: The Best Rafting Spot
Check out the best spots for rafting in Antalya:
Koprucay (Koprulu Canyon National Park): Located within the Koprulu Canyon National Park in Antalya's Manavgat district, Koprucay has become a frequent destination for adventure and adrenaline enthusiasts. In Antalya, which hosts tourists from all over the world, most visitors spend their time paddling on the 14-km Koprucay track in Manavgat, considered one of the essential rafting routes in the world. Visitors dive into the cold waters of Koprucay, flowing from the top of the mountains, taking safety precautions under the supervision of a professional. The adventurous journey along the course, which takes about 4 hours by boat and canoe, adds color to particular areas, such as jumping and swimming.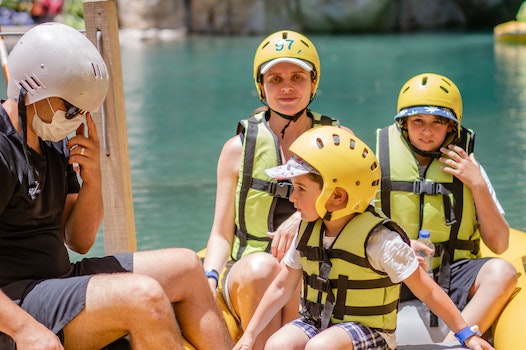 Dimcay Rafting: One of the region's most suitable rivers for rafting is 6 km from Alanya. Dimcay's difficulty level is between 1 and 2 degrees. You can buy information and tickets from many companies in Alanya for rafting in Dimcay.
Alara Stream: It is one of the most critical places for rafting in Antalya. Rafting and canoeing sports start in Guzelbag town and end in Alara Castle. You can also have a picnic, swim, walk, fish, and take photos in Alara Stream, where many fish restaurants exist. After you finish the rafting, you can visit tourist places such as Alara Castle. It is a pleasure to swim in the very calm waters of the stream in extreme heat. Planning a day trip allows you to spend a wonderful day in a region intertwined with history and natural beauty.
Manavgat Stream: The water flow rate is essential for the starting point of the rafting course in Manavgat. During the months when the water flow is suitable, you can go rafting around the Sahap bridge. The rafting route on the Manavgat river, which has a high degree of difficulty, can be dangerous for amateur groups. It would be best if you went rafting in Manavgat Stream with professional rafting athletes.
Is Rafting Worth It in Antalya?
It would be best if you went rafting in Antalya. You can have unique moments and great experiences and take pictures in many landscapes.