Ancient City of Perge 2023: A Fascinating Look into Antalya's Rich History
The Ancient City of Perge is an eye-catching and unique place. Antalya, a province located on the Mediterranean coast of Turkey, is famous for its stunning beaches and vibrant nightlife. But did you know that it also has a rich historical heritage?
One of the fascinating examples is Perge Ancient City, a well-preserved archaeological site that offers a glimpse into the region's ancient past.
History and Background of Perge Ancient City
Perge Ancient City dates back to the Hellenistic period, around 334 BC, and was once a prosperous city in the Roman Empire.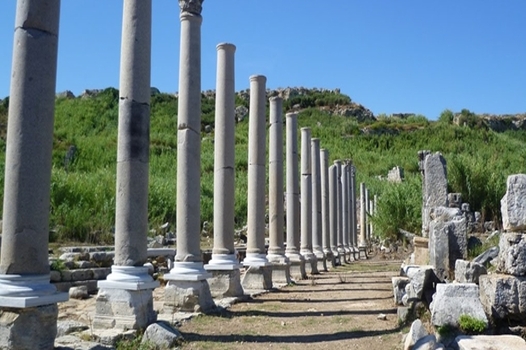 It was famous for its impressive architecture, including a large stadium that could seat up to 12,000 spectators. It was also an important center for trade and commerce, thanks to its location on the trade route between the Mediterranean and the interior of Anatolia.
Exploring Ancient City of Perge
Today, visitors can explore the ruins of Perge Ancient City and marvel at its impressive structures. The city's most famous landmark is the Stadium, one of the world's best-preserved examples. Visitors can also see the ruins of the Roman baths, the agora (marketplace), and the theater, which could seat up to 15,000 people.
Another must-see attraction is the Hellenistic Gate, which was built in the 2nd century BC and served as the main entrance to the city. It is a testament to the impressive engineering skills of the ancient Greeks and is a popular spot for tourists to take photos.
Perge Ancient City is also home to a museum, where visitors can learn more about the city's history and see artifacts excavated from the site. The museum's collection includes ancient coins, sculptures, and ceramics, among other items.
Perge Ancient City is a fascinating destination for anyone interested in history or archaeology. Its well-preserved ruins offer a glimpse into the ancient past of Antalya and the wider region. Whether you're a history buff or just looking for a unique travel experience, Perge Ancient City is worth a visit.
How to Get to the Ancient City of Perge?
Perge Ancient City is located about 18 kilometers east of Antalya and is easily accessible by car or public transportation. It is open to visitors year-round, but the best time to visit is spring or fall when the weather is mild.