Kursunlu Waterfall 2023: A Natural Oasis in Antalya
Kursunlu Waterfall is one of the must-see places. Antalya, a province located on the Mediterranean coast of Turkey, is known for its stunning beaches and rich history. However, visitors to the area shouldn't miss out on exploring its natural beauty, including Kursunlu Waterfall.
History of Kursunlu Waterfall
Kursunlu Waterfall is located about 19 kilometers from Antalya city center and is part of a natural park of the same name. The waterfall is fed by underground springs and surrounded by lush vegetation, including pine trees, oleanders, and carob trees.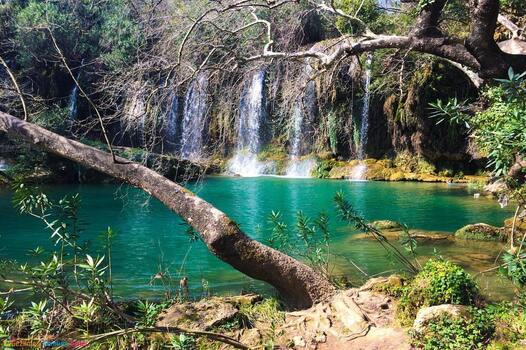 Exploring Kursunlu Waterfall
The waterfall is a magnificent sight, with water cascading down a series of steps into a tranquil pool below. Visitors can walk along a path that winds through the park and offers stunning views of the waterfall and its surroundings.
The park is also home to various wildlife, including many species of birds, butterflies, and even turtles. The park's management has taken great care to preserve the area's natural beauty, and visitors ask to respect its rules and regulations to help keep it pristine.
Visiting Kursunlu Waterfall
Kursunlu is open year-round, and visitors can access the park by car or public transportation. The park is trendy during summer when visitors can cool off in the refreshing pool below the waterfall.
The park also has a small café and picnic area, making it an excellent spot for a relaxing day out with friends or family.
Kursunlu is a natural oasis in the heart of Antalya province, offering visitors a chance to escape the hustle and bustle of the city and connect with nature. Whether you're a nature lover or just looking for a peaceful retreat, Kursunlu Waterfall is worth a visit.
How to go to Kursunlu Waterfall?
Several different transportation options exist to reach Kursunlu, approximately 19 kilometers from Antalya city center. If you have a car, you can quickly get to the waterfall by taking the D400 highway from Antalya to Alanya. After approximately 13 kilometers, take the Kurşunlu Waterfall exit and follow the signs to the park.
Many public buses go from Antalya to Kursunlu. You can reach the waterfall by bus number 522 or 523 from Antalya central bus station (Bus Station). The journey takes 30-40 minutes, and buses depart every 30-60 minutes. Many tour companies offer excursions to Kursunlu as part of a more extensive Antalya tour. These tours usually include access to the waterfall and a guide who can provide information about the history and natural environment of the area.