Summer in Cappadocia 2023: A Guide to Enjoying the Best of the Region
Summer in Cappadocia offers a unique experience. With its unique geological formations, ancient cave dwellings, and rich cultural heritage, Cappadocia is a year-round destination. However, summer is an especially magical time to visit this stunning region of Turkey. With warm temperatures, clear skies, and various outdoor activities, summer in Cappadocia offers many opportunities for travelers.
Experience the Magic of a Hot Air Balloon
Cappadocia hot air balloon is one of the most popular activities to enjoy in Cappadocia during summer. The region is known for its spectacular scenery, which can be best appreciated from above in a hot air balloon.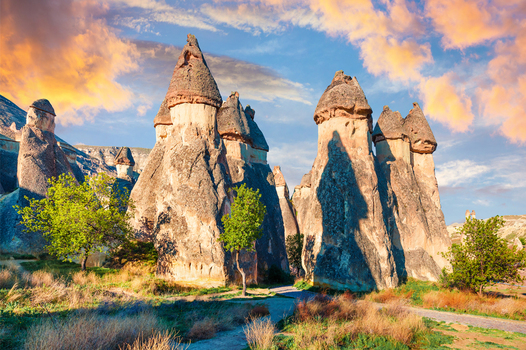 In the early morning, when the weather is more relaxed and the skies are more transparent, dozens of balloons take to the sky, providing an unforgettable view of the fairy chimneys, valleys, and villages that comprise this unique landscape.
Summer is a great time to explore the hidden gems of Cappadocia. With longer days and warmer weather, travelers can visit the less-traveled corners of the region, such as the Ihlara Valley or the Selime Monastery, without having to worry about cold temperatures or inclement weather. Summer in Cappadocia also highlights the colors and textures of the rock formations in the region, creating even more stunning photo opportunities.
Take a Hike in the Cappadocian Valleys
Summer in Cappadocia is an ideal time for hiking in the valleys. The region boasts numerous hiking trails with unique views and landscapes.
The Pigeon Valley, Red Valley, and Rose Valley are just a few examples of courses that can be explored during summer. With the dry weather and mild temperatures, hiking in Cappadocia during summer is an enjoyable and comfortable experience.
Cool Off in Cappadocia's Underground Cities
Summer in Cappadocia can bring heat, but the region's underground cities provide a cool respite from the heat.
The underground cities, such as Derinkuyu and Kaymakli, were carved out of the soft volcanic rock by early Christians to protect themselves from invaders. These cities have been well-preserved and provide an intriguing glimpse into the region's past and a refreshing escape from the summer heat.
Savor the Flavors of Cappadocian Cuisine
Summer in Cappadocia is also a great time to taste the flavors of Cappadocia cuisine. The region is known for its unique dishes, such as Testi Kebabi (a slow-cooked meat dish served in a clay pot), Manti (a type of Turkish dumpling), and Gullac (a traditional dessert made with layers of phyllo dough, milk, and rose water). Many regional restaurants offer outdoor seating, providing a perfect way to enjoy a meal while enjoying the stunning views of Cappadocia's landscapes.
Summer in Cappadocia is a great time to visit and experience all these magical regions. From hot air balloons to hiking, from exploring hidden gems to savoring the flavors of Cappadocian cuisine, summer in Cappadocia is a time to savor and remember forever.
How to get to Cappadocia?
There are several options to reach Cappadocia. The closest airport to Cappadocia is Nevsehir Cappadocia Airport. There are regular flights from major cities such as Istanbul, Ankara, and Izmir. Also, Kayseri Erkilet Airport is another airport close to Cappadocia and offers regular flights from Istanbul and Ankara.
You can also reach Cappadocia by bus. Bus services are from many major cities in the country, especially Istanbul and Ankara. Many tour companies are visiting Cappadocia. These tour companies offer various transportation options and the best routes for places to visit in Cappadocia. The tour option can be ideal for those who prefer to be with a guide on their trip. In short, many opportunities exist to reach Cappadocia, and your chosen method may vary depending on your location, budget, and other factors.