Exploring the Charming Village of Cavusin in Cappadocia 2023
The charming village of Cavusin, located in the center of Cappadocia, is a must-visit place for history and culture buffs. This ancient village dates back to the 5th century and boasts unique cave houses, stunning rock formations, and well-preserved churches.
Cave Dwellings in Cavusin
One of the main attractions of Cavusin is its unique cave dwellings, which were carved into the soft volcanic rock by early Christian communities. These dwellings served as homes, churches, and even stables for centuries. Today, visitors can explore these fascinating structures, some still in use.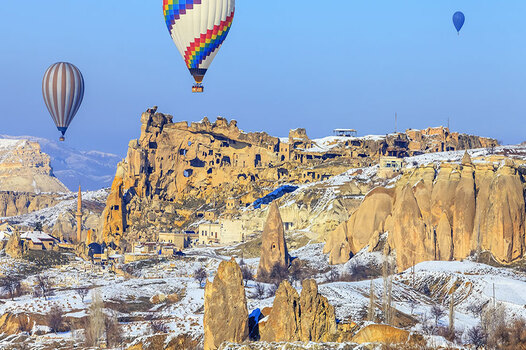 Churches of Cavusin
This village is also home to several well-preserved churches, including the Church of St. John the Baptist, which dates back to the 5th century. The church features stunning frescoes and intricate carvings, giving visitors a glimpse into the region's rich history and culture.
Perched atop a hill overlooking the village, the Castle of Cavusin is a must-visit destination for panoramic views of the surrounding area. The castle dates back to the Byzantine era and was later used as a fortress during the Ottoman period.
Tips for Cavusin
This essential village is easily accessible by car or bus from nearby towns such as Goreme or Nevsehir. There is no entrance fee to visit the village, but visitors should prepare to do some walking as the city is hilly and has narrow streets. Visitors should also wear comfortable shoes and bring sunscreen and a hat, as the sun can be intense in the summer months.
This village is a fascinating destination in Cappadocia that offers a glimpse into the region's rich history and culture. With its unique cave dwellings, well-preserved churches, and panoramic views, the village is a must-visit destination for anyone interested in exploring the beauty of Cappadocia. Plan a visit to Cavusin and discover the charm of this historic village for yourself!
How to get to Cavusin?
Cavusin is a village in the Cappadocia region and can be easily reached from the surrounding cities. Some nearby cities are Nevsehir, Goreme, Urgup, and Avanos. If traveling by air, the nearest airport is Nevsehir Cappadocia Airport. You can easily reach Cavusin from the airport by taxi or car rental options. Besides car rental or taxis, buses are also a convenient option to get to the village. Many intercity bus companies in the Cappadocia region offer regular services to this village. You can easily reach the town by taking a bus from Goreme or Nevsehir. A car rental service is also available in the village, but the village streets are narrow, and parking can be challenging. Therefore, walking in the town may be the best option.