Cappadocia Devrent Valley 2023 (The Best and New Guide)
Cappadocia Devrent Valley, also known as Imagination Valley, is a unique area in Turkey's Cappadocia region. It is known for its striking rock formations that resemble animals and other shapes. The valley is made up of soft tuff stone and volcanic ash, shaped by erosion over thousands of years.
Devrent Valley is a popular spot for tourists and photographers, as the unique rock formations provide a natural backdrop for photos. Visitors can walk along the trails to see the different shapes and enjoy the stunning views. There are also guide tours available which provide more information about the history and geography of the area.
Devrent Valley is just a few kilometers away from Urgup, and it is easy to reach by bus or car. It is also possible to visit the valley as part of a more extensive tour of the Cappadocia region.
What to do in Devrent Valley?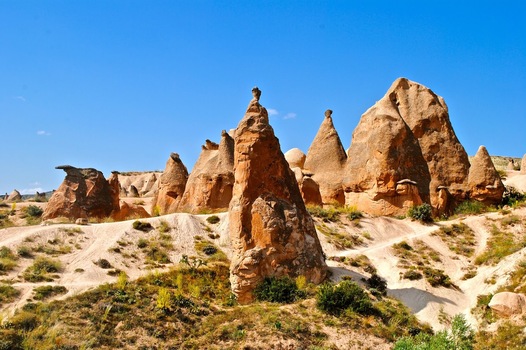 There are several things to do in Devrent Valley to make the most of your visit:
Hiking
Photography
Visit the ancient cave dwelling
Hot air balloon ride
Guided tour
Relax and enjoy the scenery
How to Go to Cappadocia Devrent Valley?
There are several ways to reach the Cappadocia Devrent Valley. You can catch a bus to Devrent Valley from the nearby city of Urgup. Buses run regularly, and the journey takes around 20 minutes. If you are traveling by car, you can use the main road from Urgup to Devrent Valley. Also, Devrent Valley is a great place to explore by bike. You can rent a bike from Urgup and cycle around the valley.
What's the best way to see Devrent Valley?
The best way to see Devrent Valley depends on your interests and preferences. For example, a guided tour is a great way to get the most out of your visit and learn about the valley's history and geology. This valley offers several hiking trails that allow visitors to explore the valley and its unique rock formations at their own pace. A great way to explore the valley on foot and take in the beautiful scenery. Make sure you wear comfortable shoes and bring enough water and snacks. Finally, a hot air balloon ride is a great way to see the valley from a different perspective—a unique and magical way to experience it and its scenery.