Unveiling the Hidden Gem of Cappadocia: Temenni Tepesi 2023 – The Perfect Panorama Point
If you're looking for a breathtaking and less-explored destination in Cappadocia, Temenni Tepesi is your answer. This hidden gem is a panoramic viewpoint that offers majestic vistas of fairy chimneys and uniquely shaped rock formations. Read on to learn why Temenni Tepesi should be at the top of your Cappadocia itinerary and how to make the most of your visit.
Awe-inspiring Panoramic Views
Temenni Tepesi, also known as the Hill of Wishes, is a vantage point that boasts 360-degree views of Cappadocia's unique landscape. You can admire the famous fairy chimneys, deep valleys, and picturesque cave houses from this stunning spot. Watching the sunset from Temenni Tepesi is an unforgettable experience, with the warm colors of the sky painting the landscape in shades of gold and pink.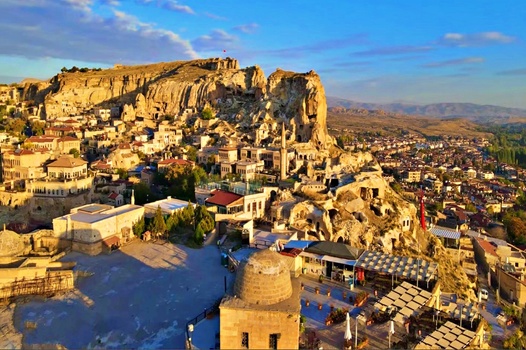 Temenni Tepesi: Rich History and Culture
Cappadocia is well-known for its rich history, and this hill is no exception. The hill is home to the tomb of a respected Seljuk commander. This historical site adds a layer of cultural significance to your visit, making this hill more than just a beautiful viewpoint.
Easy Accessibility
Located in the heart of Urgup, Temenni Tepesi is easily accessible by foot or car. The short hike up the hill is well worth the effort, as the spectacular view awaits you. The well-maintained path suits visitors of all ages and fitness levels.
A Photographer's Paradise
Whether you're a professional photographer or just love capturing memories, this hill is a must-visit location. The captivating landscape and ever-changing sky make for stunning photos you'll cherish forever. Don't forget to bring your camera and tripod to capture the magic of Cappadocia from this unique vantage point.
While Cappadocia is a popular tourist destination, this essential hill remains a serene and uncrowded spot. Escape the hustle and bustle of the more frequented attractions and enjoy a moment of tranquility as you take in the enchanting beauty of the region.
If you plan a trip to Cappadocia, add Temenni Tepesi to your list of must-visit destinations. This panoramic viewpoint offers unparalleled views of the stunning landscape, a rich historical backdrop, and a peaceful escape from the more crowded tourist spots. Don't miss the chance to discover this hidden gem and make your Cappadocia experience unforgettable.
How to get to Cappadocia Temenni Tepesi?
You can follow some steps to reach Temenni Tepesi in Cappadocia. Fly to the nearest airport, Kayseri Erkilet Airport or Nevsehir Cappadocia Airport. You can take a taxi, rent a car or book a shuttle to Temenni Tepesi. When you arrive in Cappadocia, head to the town of Goreme, located in the region's heart. This hill is located in Goreme and can reach from the town center. If you travel by public transport, you can take a bus to Goreme from major cities such as Istanbul or Ankara. There are frequent bus services from these cities to Goreme. You can walk or taxi to Temenni Tepesi when you arrive in Goreme. It locates on the town's outskirts, about 2 km from the center.