Istanbul Sirkeci 2023 (Your ultimate guide to everything you want to explore!)
Istanbul Sirkeci is a district located in the Fatih district of Istanbul. At the southeast end of the Historical Peninsula, Istanbul Sirkeci is situated on the shore of the Sea of Marmara and at the entrance of the Golden Horn. Sirkeci Train Station is one of Istanbul's oldest and most crucial suburban train stations.
The history of Istanbul Sirkeci dates back to the last periods of the Ottoman Empire. In the previous periods of the Ottoman Empire, there were many foreign embassies and trade houses in the Sirkeci region. Today, this is one of the important touristic centers of Istanbul and is home to many historical buildings. Historical buildings such as Sirkeci Train Station, New Mosque, Spice Bazaar, and Galata Tower attract the attention of tourists.
Places to See in Istanbul Sirkeci
Check out the places you must see in Istanbul Sirkeci:
Sirkeci Train Station: This station is one of Istanbul's oldest and most important. The station was opened in 1890 and provided suburban train service between Istanbul and Europe.
Spice Bazaar: This important bazaar in Sirkeci is one of Istanbul's most famous and historical bazaars. Built-in 1664, the bazaar welcomes visitors with 85 shops selling spices, cookies, sweets, and other traditional products.
New Mosque: This mosque in Sirkeci is a historical mosque built in 1597. One of the largest mosques in Istanbul, the New Mosque is one of the most important examples of Ottoman-period architecture.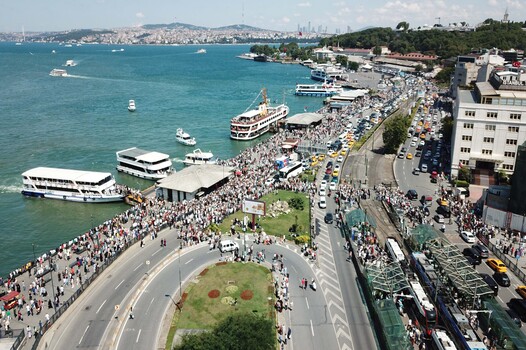 Galata Tower: Close to the Sirkeci district, Galata Tower is one of the oldest and most famous touristic places in Istanbul. Built-in 1348, the tower is one of the best places to see the historical peninsula of Istanbul and the Golden Horn.
Topkapi Palace: This palace is close to the Sirkeci district and is one of Istanbul's most important historical buildings. Once the administrative center of the Ottoman Empire, the palace was built in the 15th century and is one of Turkey's most visited tourist attractions.
Hagia Sophia: This is one of Istanbul's most famous historical buildings. The building was first built as a church by the Byzantine Emperor Justinian I in 537 and was converted into a mosque by the Ottoman Empire in 1453.
How to go to Sirkeci?
Getting to Istanbul Sirkeci is relatively easy. You can reach here by metro, tram, or bus anywhere in Istanbul. Sirkeci Train Station is one of the stops of trains coming from the European and Anatolian sides of Istanbul.
Where can you stay in Sirkeci?
Since Istanbul Sirkeci is a touristic district of Istanbul, there are many accommodation options. The region has different accommodation options, such as hotels, apart-hotels, and hostels.