Arasta Bazaar (The Most Comprehensive Information in 2023)
Arasta bazaar is a unique place. For many tourists, Turkey is synonymous with shopping, and the Turkish market is an opportunity to immerse yourself in oriental taste and buy interesting and unusual things.
Although Arasta Bazaar isn't the most famous in Istanbul, it is definitely worth a visit if you want to take a break from the hustle and bustle of the Grand Bazaar and spend time in peace. Here you will not be deafened by the endless shouts of the merchants, but you will be satisfied with the cleanliness, and the Turkish tea served.
Arasta Bazaar History
Arasta Bazaar is one of the oldest bazaars in Istanbul. It appeared in the 17th century, next to the Blue Mosque, on the site of the palace of the Byzantine emperor. This is evidenced by the mosaic fragments that archaeologists discovered on the paving stones. Horse ammunition was sold for a long time in the bazaar for the soldiers of the Ottoman army.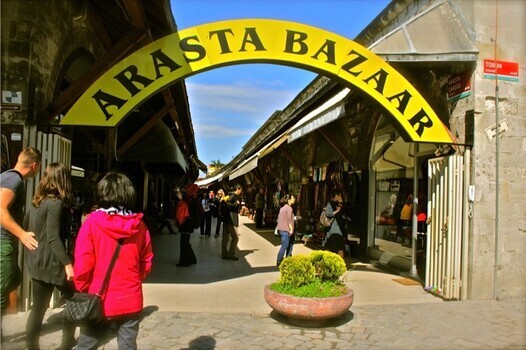 Arasta bazaar, a bustling place until the 20th century, was severely damaged by a fire at the beginning of the last century. No one began to save it; therefore, for more than 60 years, it was a slum, and the poor settled on its land.
However, in the 1980s, Istanbul authorities nevertheless decided to restore the old market and eventually made it an attractive place for tourists.
Properties
This bazaar is a narrow shopping street with small shops covered with high awnings on both sides. About 70 of them, and the assortment of these outlets is quite diverse. Since the bazaar isn't very popular with tourists, it is generally relatively quiet, calm, and clean.
Despite its tiny popularity, the bazaar is still considered a tourist destination. That's why the prices here are above average. It is worth bargaining with sellers to reduce the cost of the goods you will buy. They are quite willing to communicate and can even cut the price in half.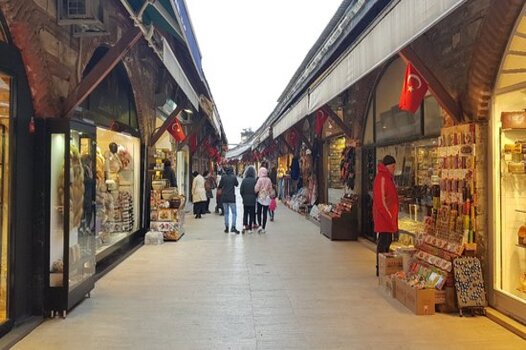 Besides shopping at Arasta bazaar, you can enjoy Turkish cuisine and live music at a local cafe or smoke a hookah. Sometimes in the evenings, there are free performances of dervishes, and deep in the market, you can find the Mosaic Museum. It dedicates to the mosaics of the Byzantine emperor's palace located on the territory of the bazaar.
Where is Arasta bazaar?
Arasta Bazaar is located in the historical center of Istanbul, in the same-named district of the city, next to Sultanahmet Square.
How to go to Arasta Bazaar?
Since the bazaar locates in the city's historical center, it is not difficult to reach. If you are in Sultanahmet or Fatih area, you can walk to the bazaar; it is unlikely to take more than 30 minutes. You can reach the Beyoglu area with the T1 tram.