Istanbul Eminonu 2023 (Istanbul's Most Historic Place and The Best Center)
Istanbul Eminonu is one of the most beautiful areas of this region and is always lively. You can see many tourists of different nationalities here; it is easy to say that Istanbul's most stunning sights and historical places concentrate on this spot.
It is interesting to know that besides entertainment, there are many attractions such as Istanbul Eminonu, Grand Bazaar, various restaurants, and boats selling fast food and fish sandwiches.
Istanbul Eminonu is one of the old quarters of the Fatih district, located next to the Bosphorus and Galata Bridge and adjacent to the historical Sultanahmet district from the south. This district has a large and vital pier where ships start their voyages to the Anatolian side of Istanbul. This pier offers the best and highest quality services for the Bosphorus tour. Watching the Bosphorus view from this pier and the presence of old bazaars and historical mosques around it made Eminonu one of Istanbul's busiest and most popular districts.
Eminonu Pier
Despite all its beauty, the beautiful city of Istanbul has become a unique destination for tourists worldwide. Many people travel to this popular destination every year. There are many places to see in Istanbul, and Eminonu is one of them.
This complex is one of the old neighborhoods of Istanbul, where most tourists go after visiting Fatih Street and Taksim Square. Istanbul Eminonu has created a beautiful and exciting combination of Istanbul's historical sites, preserving old historical traces and combining them with modern Istanbul style. You could not complete your Istanbul trip without visiting this region. Eminonu Pier is also one of the unforgettable places you must visit in Istanbul.
Tips on Istanbul Eminonu
The beautiful Galata Bridge in the Eminonu area is the best place for fishing, walking, and taking pictures. So when you visit this area, prepare your phone's camera or photo and take artistic and beautiful images.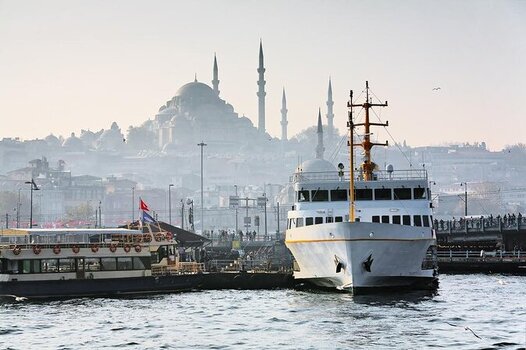 Some boats sell fish sandwiches at Eminonu pier. If you're hungry, try these delicious sandwiches. There are also some excellent seafood restaurants under the bridge, a great place to try seafood.
Enter the bazaar entrance in front of the Galata Bridge and continue upwards. Finally, you will reach the Grand Bazaar. Visiting the Istanbul Grand Bazaar is a delightful feeling. Don't forget to buy souvenirs from this market. The Grand Bazaar is an attractive place for those who love the atmosphere of the old bazaar.
If you take the metro, get off at the Golden Horn station, a bridge over the water, and walk a short distance to the market area and Galata Bridge. The bridge over the water is a great way to take pictures and hike. Never miss this opportunity.
Things to See Near Istanbul Eminonu
Check out the places to visit near Istanbul Eminonu:
Spice Bazaar: This bazaar is one of Istanbul's oldest and largest bazaars. Whatever you can think of, you can find in this market. It is natural that the Istanbul Spice Bazaar, with its many vendors, sells everything.
Galata Bridge: It is one of Istanbul's most attractive and unforgettable attractions. This tower is one of the most beautiful sights in the city, and when you visit, you will see many young couples going to the top of the building and taking pictures.
Blue Mosque: This mosque is one of the famous mosques of Istanbul. Indeed, the beauty and magnificence of this mosque are awe-inspiring.
Istiklal Street: As usual, you can stop by the iconic street of Istanbul.
Taksim Square: This square is also the center of Istanbul.
How to Get to Istanbul Eminonu?
You can use the Istanbul tram line to reach the Istanbul Eminonu area. This way, you have to get off at Eminonu station. Using the Istanbul Metro is also a good option.