Camlica Mosque (The Best Information in 2023)
On March 7, 2019, the authorities opened the magnificent Camlica Mosque in Istanbul. This is a whole architectural complex, considered the largest in the world. Direct participation in the mosque's construction belongs only to the President, who isn't the initiator of the building. To construct the complex, the state allocated an area of 125,000 square meters in the Uskudar district of Istanbul.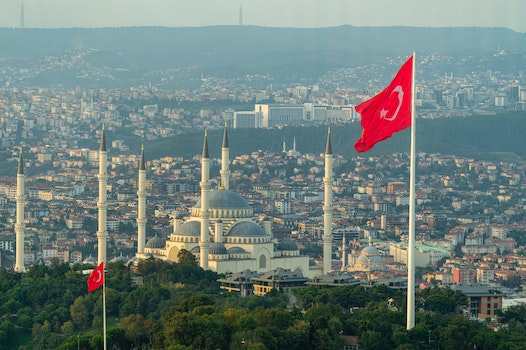 You can clearly see the Camlica Mosque rising on Camlica hill, on the Asian side of the Bosphorus. You can see it clearly from the observation terrace in Topkapi Palace, Eminonu Square, or Galata Bridge.
Camlica Mosque Features
The architectural complex includes six minarets symbolizing the pillars of Islam. The two furthest from them are 90 m, and the rest surrounding the center is 107.1 m. Minarets are decorated with unique balconies.
This is a traditional element of Islamic architecture; in ancient times, it served as a place where the muezzin called Muslims to pray. Smaller minarets have two such balconies. The central dome, with a diameter of 34 meters, rises to a height of 72 meters.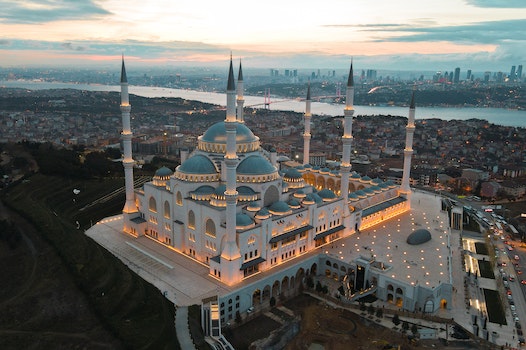 The dome is decorated with a 7.77 m high cone of three parts. In total, the roof is crowned with 70 domes of various diameters. Directly in the mosque itself, 25,000 people can pray simultaneously, the inner courtyard can accommodate 12,500 people, and the outer courtyard – 22,500. Up to 63,000 people can visit the architectural complex at the same time.
The vault of the Camlica mosque is decorated with a unique mosaic painting using modern technologies. The tiny details of 870 stainless steel cover with an exceptional composition gilding.
Where is Camlica Mosque?
Camlica Mosque locates on the Asian side of Istanbul, in the Uskudar district. You can see it very clearly from Eminonu Pier as it is the highest point.
Is Camlica Mosque Free?
Yes, the entrance to the mosque is free.
How to Get to Camlica Mosque?
There are several ways to reach the newly built mosque. The easiest way for a tourist is to first go to Uskudar (Marmaray or ferry) and take a taxi from the parking lot next to Mihrimah Mosque. There are also direct buses.