Emirgan Park in Istanbul 2023 (The Best Guide)
Emirgan Park in Istanbul is one of the city's most popular and visited parks. The park stands out for its large landscaped area and is excellent for hiking and picnicking.
It attracts both locals and visitors. In the spring, the park becomes the center of one of Istanbul's most important public events, the Tulip Festival.
Tulip Festival in Istanbul 2023
Emirgan Park is closely related to the traditional flower, the tulip. These flowers have been accepted as the symbol of Turkey for centuries.
Authorities brought wild plants of the Asian steppes from Persia to the Ottoman Empire and from there to the Netherlands. The first period when flowers became popular coincided with the reign of Suleiman the Magnificent in the 16th century. The number of tulip varieties in Turkey reached 1800; some were very expensive, and each species had its official name.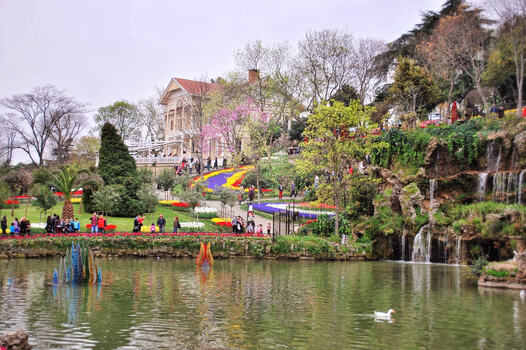 A bright holiday is held every year in April, with the International Tulip Festival as a sign of respect for tradition. The festival has been held in Istanbul since 2005.
City authorities plant many tulips in squares, traffic intersections, streets, squares, and parks. Residents do the same on their initiative. Millions of flowers decorate Istanbul for a month.
Emirgan Park is the center of the festival. During the festival, the area fills with stunning tulips of all varieties and hues. The result of the work of breeders and landscape designers is admired and delighted.
Features of the Park
Emirgan Park is one of everyone's favorite places in Istanbul. It locates in the Sariyer region, on the European shore of the Bosphorus. The park belongs to the municipality, covers approximately 47 hectares, and is surrounded by high walls. You can see summer mansions at the park's border close to the dam.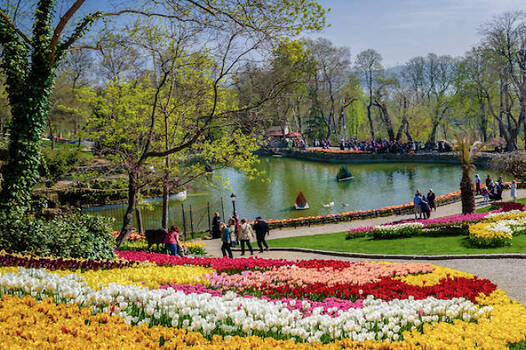 There are more than 120 species of trees and shrubs, including scarce virgin herbs, cinnamon, and mahogany. The park is very well maintained; it has many paths, lawns, and meadows. You can easily see birds and animals up close. For example, squirrels here aren't afraid of humans and take food directly from their hands. In the center has a large artificial pond with caves, caverns, and waterfalls. Ducks, swans, and turtles live in it.
Note: It is also appropriate to visit the Rumeli Fortress castle with a walk-in Emirgan Park. You can check our article about Rumeli Fortress.
How to go to Emirgan Park?
Most of the tourists come to the park from the city center. You need to take the T1 high-speed tram and go to the last stop of Kabatas. Then cross the road to the bus stop and wait for one of these routes: 22, 22E, 25E, 40T, or 42T.
Is Emirgan Park Free?
Yes, Emirgan park is entirely free.