Miniaturk in Istanbul 2023 (The Best Guide)
Miniaturk in Istanbul is a place where there are 116 miniature models of various landscapes of Turkey and beyond. The layouts have been made very realistic by carefully studying the small details. Their size doesn't exceed the human height, and some barely reach the knee. To be precise, the layouts are 25 times smaller than their prototypes.
Miniaturk Park in Istanbul will, first of all, attract the attention of children. Make sure you bring them here. Secondly, it is very interesting for tourists visiting Istanbul. They can see the places they have visited or will visit before. For example, in minimal volume, you can see the famous Topkapi Palace or the curious Rumeli Fortress castle.
So what else is in Istanbul Miniaturk Park?
There is a cafeteria for the little ones, a playground, and a labyrinth for the children. A road runs along the park's perimeter, where a train passes and carries everyone for a small fee. There is a large gift shop at the entrance.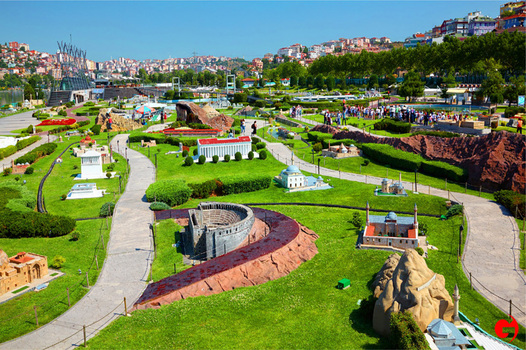 Which Attraction Centers are in Miniaturk?
To better understand what exactly you will see in Miniaturk Park, we conditionally divided all the layouts into three groups.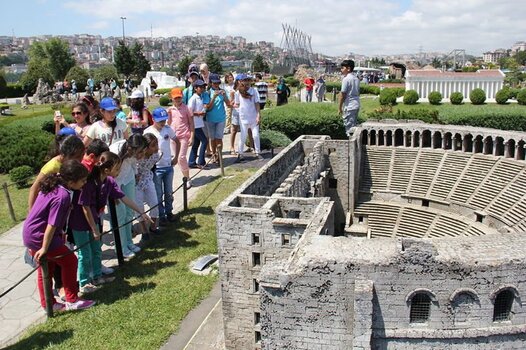 Istanbul Models (Historical)
These are historical places located in Istanbul. Here are the examples you will see:
Hagia Sophia: Istanbul's main attraction is also a temple, a mosque, and a museum. Many mysteries and famous historical events connect with it.
Topkapi Palace: It is a place where sultans lived in unprecedented luxury for centuries.
Rumeli Fortress: It was built in 4 months to capture Constantinople.
Blue Mosque: It is the most important mosque in Istanbul.
Suleymaniye Mosque: It is the largest mosque in Istanbul and has second importance after the Blue Mosque.
Istanbul Models (Modern)
Models are modern; this is what was built relatively recently. Also attractive because it locates in this city:
Railways: There are only two railways in the park where miniature trains travel non-stop.
Stadium: It is a prototype stadium that can host 53,000 fans.
Bosphorus Bridge: Although it is a model, you can walk on it. Small boats float under the bridge across the Bosphorus, and a small ferry honks from time to time, crossing from one shore to the other.
Highway: Moves on car models.
Turkey Models
These are the landscapes in Turkey. Here are the examples you will see:
Pamukkale: It is a region famous for its natural origin, white terraces in Turkey.
Cappadocia: It is a region in Turkey famous for its strange rocks.
Aspendos: It is an amphitheater. Tourists vacationing in the Mediterranean are often taken there for excursions.
What Hours is Miniaturk Open?
Miniaturk working hours are 09.00 – 19.00. Miniaturk Park is open every day.
How Much is the Miniaturk Entrance Fee?
The Miniaturk entrance fee is 90 TL. Turkish entry is twice as cheap. You can pay with a debit card. Foreign currency doesn't accept for payment.
How to Go to Miniaturk Park?
You can take buses 47, 47E, 47Ç, and 47N from the Eminonu bus station. Get off at the Miniaturk stop and then cross the road; the park's entrance will be on your right. If you are coming from Sultanahmet, you must take the light rail system to the Eminonu stop and walk 300 meters along the pier to the bus station. It would be best if you took buses numbered 47, 47E, 47Ç, and 47N.