Discovering the Marvels of the Zeugma Mosaic Museum 2023 (The Best Guide)
The Zeugma Mosaic Museum is world-renowned in Gaziantep, Turkey, that houses an impressive collection of ancient mosaics. Its name is after the ancient city of Zeugma, once a vibrant and prosperous center of commerce in the Roman Empire.
The History of Zeugma and its Mosaics
Zeugma was founded in the 3rd century BC and quickly became an important trade center due to its strategic location on the Euphrates River. The city was home to a diverse population, including Greeks, Romans, and Persians, and was renowned for its wealth and cultural achievements.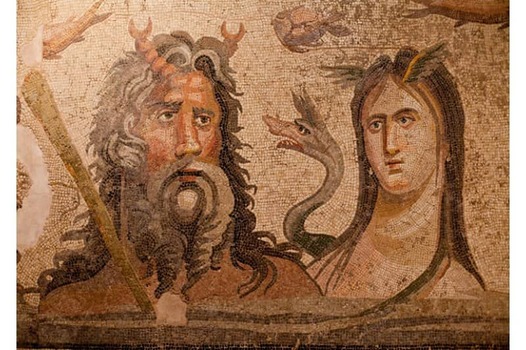 One of the most impressive legacies of Zeugma is its intricate and beautiful mosaics, which were created by skilled artisans between the 2nd century BC and the 5th century AD. These mosaics depict various subjects, including mythological scenes, daily life, and nature.
The Collection at the Zeugma Mosaic Museum
The Zeugma Mosaic Museum houses an impressive collection of over 2,000 square meters of mosaics, making it one of the largest mosaic museums in the world. The collection includes mosaics from both Zeugma and other ancient sites in the region and spans various themes and styles.
Some of the most notable mosaics in the collection include the Gypsy Girl, a hauntingly beautiful portrait of a young woman; the Oceanus and Tethys mosaic, which depicts two sea gods surrounded by various sea creatures; and the Three Graces mosaic, which shows three female figures representing beauty, charm, and creativity.
The Architecture and Design of the Museum
The Zeugma Mosaic Museum is home to an impressive collection of mosaics and boasts stunning architecture and design—the museum is built on multiple levels, with each group showcasing different themes and styles of mosaics.
The museum's architecture is also unique, featuring a striking white facade with geometric patterns that echo the designs of the mosaics inside. The museum is spacious and airy, with natural light streaming through skylights and windows.
Visiting the Zeugma Mosaic Museum
If you're planning a trip to Gaziantep, the Zeugma Mosaic Museum is worth a visit. The museum is open every day except Monday, and admission is reasonably priced.
While you're there, take your time exploring the various levels and sections of the museum, and don't miss the chance to see some of the most iconic mosaics up close. The museum also offers guided tours and audio guides to help you get the most out of your visit.
The Zeugma Mosaic Museum is a true marvel of ancient art and architecture, showcasing some of the world's most beautiful and intricate mosaics. With its unique design and impressive collection, it's no wonder that the museum attracts visitors from all over the globe. Whether you're a history buff, an art lover, or simply looking for a unique and fascinating experience, the Zeugma Mosaic Museum isn't to be missed.
What attractions are near Zeugma Mosaic Museum?
There are several attractions near the Zeugma Mosaic Museum in Gaziantep, Turkey. Some of the notable ones include:
·       Gaziantep Castle
·       Copperware Bazaar
·       Gaziantep Archaeological Museum
·       Yesemek Open-Air Museum
·       Bayazhan City Museum