Unveiling the Marvels of Selimiye Mosque 2023: A Must-Visit Destination for Every Traveler
The Selimiye Mosque, designed by the renowned architect Mimar Sinan, is a breathtaking architectural masterpiece that stands proudly in Edirne, Turkey.
Its magnificent dome, elegant minarets, and intricate tilework captivate visitors from all around the world. As you step inside, the mosque's harmonious blend of Islamic and Ottoman architectural styles will leave you in awe.
The History and Significance of Selimiye Mosque
Constructed between 1569 and 1575, the Selimiye Mosque was commissioned by Sultan Selim II to demonstrate the wealth and power of the Ottoman Empire. Recognized as a UNESCO World Heritage Site, it serves as a testament to the artistic and architectural prowess of the time. The mosque's design is a culmination of Mimar Sinan's vast experience, embodying his vision of perfection in Islamic architecture.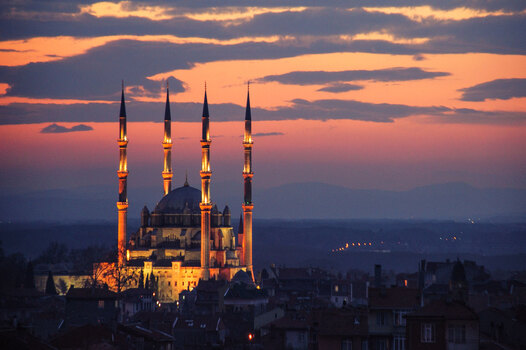 Admiring the Splendor of Selimiye Mosque's Interior
As you wander through the mosque's interior, you'll be struck by the impressive collection of Iznik tiles, which adorn the walls in vibrant shades of blue, red, and green.
The central dome, supported by eight columns, creates a sense of grandeur and spaciousness. The dome's interior is embellished with intricate calligraphy and geometric patterns, showcasing the skill and craftsmanship of the artisans.
The Picturesque Surroundings
Nestled in the heart of Edirne, the Selimiye Mosque's striking silhouette is complemented by the city's charming ambiance. The mosque is surrounded by lush gardens and quaint streets, perfect for a stroll. Stop by the nearby Arasta Bazaar to pick up souvenirs or indulge in authentic Turkish cuisine at one of the local restaurants.
Visiting Selimiye Mosque: Practical Information
The Selimiye Mosque is open to visitors daily, except during prayer times. Admission is free, but donations are welcome to support the mosque's maintenance. While exploring this sacred space, remember to dress modestly, covering your shoulders and knees. Women are advised to carry a scarf to cover their hair. Remove your shoes before entering the prayer hall as a sign of respect.
Capture Your Memories: Photography Tips for Selimiye Mosque
This essential mosque offers countless photo opportunities, both inside and out. Capture the grandeur of the mosque's exterior by shooting from a distance to include the four slender minarets. For interior shots, consider using a wide-angle lens to capture the full splendor of the dome and the intricate tilework. Don't forget to explore different angles and perspectives for a truly unique photo collection.
In conclusion, a visit to this mosque is a must for anyone traveling to Turkey. The mosque's awe-inspiring architecture, rich history, and serene atmosphere make it an unforgettable destination. Whether you're a history buff, an architecture enthusiast, or a curious traveler, the Selimiye Mosque will leave you spellbound.
How to get to Selimiye Mosque?
Selimiye Mosque locates in the city of Edirne, Turkey. You can take a taxi or public transportation, such as a bus, to get there. If you are coming from Istanbul, you can also take a bus or a train to Edirne. Once you arrive in Edirne, you can ask locals for directions to the mosque or use a map or GPS to navigate your way there.