Discover the Unforgettable Beauty of Izmir Kordon Boyu 2023 – Turkey's Coastal Gem
Izmir Kordon Boyu, the picturesque coastal promenade in Turkey's third-largest city, is an unforgettable destination with various activities and attractions for travelers seeking cultural and leisure experiences.
From stunning views of the deep blue Aegean Sea to vibrant street life and historic landmarks, Izmir Kordon Boyu is a unique destination for those exploring culture and natural beauty.
A Stroll Along the Enchanting Kordon Boyu Promenade
The Kordon Boyu promenade stretches 6 kilometers along the coastline, providing visitors with a serene and picturesque setting for strolls.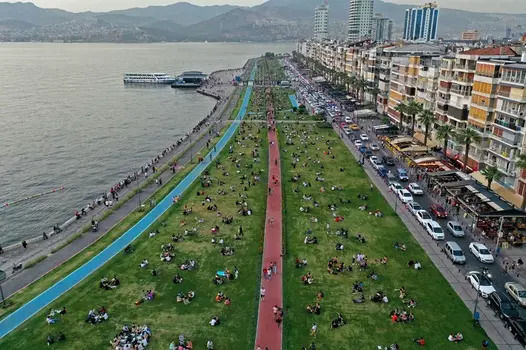 Lined with palm trees, grassy areas, and benches, the promenade offers an idyllic vantage point for admiring the azure waters of the Aegean Sea, the historic Alsancak Port, and the stunning sunsets that have become synonymous with this captivating destination.
Savor the Flavors of Izmir at Local Eateries and Cafes
The Kordon Boyu area has diverse dining options, from traditional Turkish restaurants and tea gardens to trendy cafes and street food vendors.
Feast on local specialties like kumru, a delectable sandwich made with Turkish sausage, cheese, and tomatoes, or indulge in a rich and creamy bowl of mastic-flavored ice cream. For a more laid-back dining experience, grab freshly brewed Turkish tea and watch the world go by at one of the many tea gardens dotting the promenade.
Immerse Yourself in History at the Ataturk Museum and Izmir Clock Tower
History buffs will find plenty to explore in the Kordon Boyu region, with numerous historical landmarks within easy walking distance.
The Ataturk Museum, housed in a beautifully restored mansion, celebrates the life and achievements of Mustafa Kemal Ataturk, the founder of modern Turkey. Just a short stroll away, the iconic Izmir Clock Tower, a stunning example of Ottoman architecture, symbolizes the city's rich history and cultural heritage.
Relax and Unwind at the Kulturpark and Seaside Parks
Kordon Boyu is also home to several lush parks that offer a tranquil oasis amid the hustle and bustle of the city. Kültürpark, a sprawling green space in the heart of Izmir, boasts beautiful gardens, walking paths, and cultural venues.
Along the waterfront, several seaside parks provide the perfect setting for a leisurely picnic or a moment of quiet reflection as you soak in the breathtaking views of the Aegean Sea.
Experience the Vibrant Nightlife and Cultural Events
As the sun sets over Izmir Kordon Boyu, the area comes alive with a thriving nightlife scene featuring an eclectic mix of bars, clubs, and live music venues. From traditional Turkish music performances to contemporary DJ sets, there is something to suit every taste. The region also hosts various cultural events and festivals throughout the year, including the International Izmir Festival and the Izmir European Jazz Festival, making it an ideal destination for art and music lovers.
Izmir Kordon Boyu is a destination that truly has something for everyone. With its stunning coastal views, rich history, diverse dining options, and vibrant nightlife, this enchanting locale offers an unforgettable travel experience. Whether you're seeking relaxation, adventure, or a deeper understanding of Turkish culture, Izmir Kordon Boyu is a destination that should not be missed.
How to get to Kordon Boyu?
You can reach Kordon Boyu by taking bus number 163 from Izmir Bus Station. From Izmir Airport, you can get off at Alsancak station and transfer to the promenade.