Izmir Alsancak 2023 (Izmir's Most Famous Street)
Izmir Alsancak street is undoubtedly the center of Izmir and offers something for every type of traveler. From the beginning of the port area, the street provides a wide variety of restaurants, bars, taverns, hotels, and entertainment. Small boutiques, exciting places to hang out, and some great bars will keep visitors entertained all day long.
In addition, visitors can enjoy the famous local pastry, accompanied by hot tea in Izmir Alsancak. Again at night, this street is the perfect place to try different drinks in the outdoor beer garden.
Izmir Alsancak street guarantees an unforgettable experience by offering travelers countless options, from breakfast to night drinks. If shopping is your passion, you can choose here to watch people and take a quick walk after shopping for a few hours in local and international stores.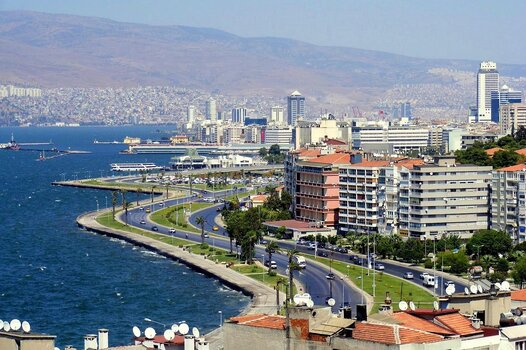 Places to See in Izmir Alsancak Street
Izmir Alsancak street is an important touristic and cultural area of Izmir. Check out the must-see places on Alsancak street:
Konak Square: This essential square, the symbol of Izmir, is the central point of Alsancak.
Kizlaragasi Inn: It is one of the oldest commercial buildings of Izmir, built in the 16th century.
Alsancak Stage: The oldest and most famous theater building in Izmir, Alsancak Stage, is located on the street.
Cumalikizik village: This village, one of the oldest ruins of Izmir, is near Alsancak street.
Clock Tower: The clock tower, the symbol of Izmir, is located in Konak Square.
Alsancak bazaar: This essential bazaar near Alsancak street is the most colorful and lively bazaar of Izmir.
How to go to Izmir Alsancak?
You can reach Izmir Alsancak in many different ways. There is a bus option to get to Alsancak from all regions in Izmir. You can go to Alsancak by train from the train stations in Izmir. You can reach Alsancak in all areas by car or taxi. Izmir's suburban train line, Izban, is the easiest way to go to Alsancak.