Pergamon Ancient City 2023 (The Best and New Info)
Pergamon Ancient City is an ancient city located in modern-day Turkey. It was founded in the 3rd century BC and was an important cultural and economic center in the Hellenistic period. The city is known for its impressive ruins, including the Pergamon Altar, the Library of Pergamum, and the Palace of Attalus.
The city was designated as a UNESCO World Heritage Site in 2014.
Pergamon Ancient City History
Pergamon was an important city in Anatolia in ancient times. According to the legend, the town's name comes from a hero named Pergamos. According to rumors, Pergamos killed the king of Teuthrania, took the city, and gave it his name. According to another story, Grynos, the king of Teuthrania, asked Pergamos for help in the war. After winning the victory, he founded two cities, one named Pergamon and the other Gryneion. In written documents, Pergamon is mentioned for the first time at the beginning of the 4th century BC. Later, it became the capital of the Pergamon Kingdom, and authorities built structures such as palaces, temples, and theaters. Towers and walls surround the city.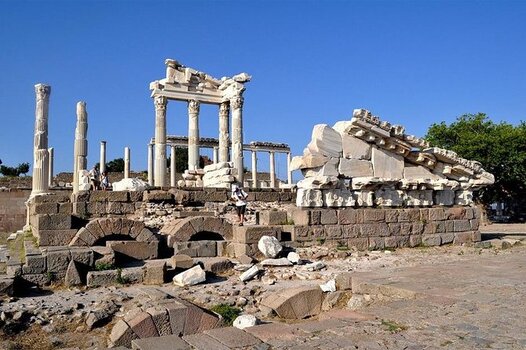 Izmir Pergamon is known as an important city in the ancient period. It remained one of the important cities of the Western Anatolia region after the kingdom was connected to Rome. The ruins of the old city were discovered in the 1870s by German engineer Carl Humann during railway construction in Western Anatolia. After this discovery, the first research and excavation work in Pergamon started in 1878. Excavations and repair works continue today.
Places to Visit in the Pergamon Ancient City
Among the ruins of the ancient city of Pergamon, the Acropolis, a library of 200,000 books, a theater with a capacity of ten thousand, palaces, Trajan Temple, Asclepion, and Serapis temples come to the fore. Here are the places to visit in the Pergamon Ancient City: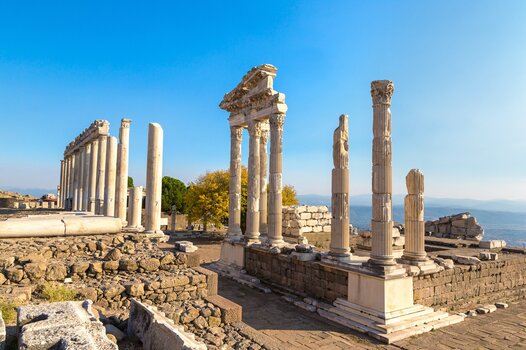 Pergamon Church
Temple of Athena
Pergamon Library
Zeus or Pergamon Altar
Pergamon Museum
Asclepius Temple
What Hours Is Pergamon Ancient City Open?
Visiting hours to the ancient city of Pergamon is divided into summer and winter. Pergamon ruins are open between 08:00 and 19:00 between April 1 and October 1 and between 08:30 and 17:30 between October 1 and April 1.
How Much Does Pergamon Ancient City Cost?
Pergamon Ancient City entrance fee is 100 TL as of 2023. If you have a Museum Card, you can enter for free.