Izmir Clock Tower 2023 (The Best and New Guide)
The Izmir Clock Tower is a historic clock tower located in Konak Square in the center of Izmir, Turkey. It was built in 1901 by the Ottoman Empire as a symbol of modernity, and it is one of the city's most famous landmarks.
The tower is 53 meters tall and made of brick and stone. It has four clocks on its four sides, and a dome tops it. The clock tower surrounds by a park and is a popular gathering place for tourists and locals alike.
Clock Tower History
The Grand Vizier Mehmed Said Pasha built the clock tower in Izmir. French-born Izmir architect Raymond Charles Pere designed the tower. Construction of the Clock Tower began in the autumn of 1900. The tower's grand opening coincides with 1901, the 25th anniversary of Sultan Abdulhamid's accession to the throne.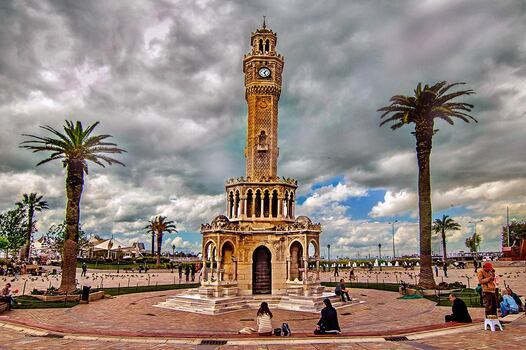 Izmir Clock Tower was built in the style of Ottoman architecture. The height of this elegant stone tower is 25 meters. The Clock Tower is built on a cross-planned four-stage platform with four levels. There are four fountains around the octagonal base of the tower.
The foundation, steps, and fountains are made of white marble. The tower itself is made of cut stone. There is a clock with a diameter of 75 centimeters on each side of the building. Authorities brought the stones used in the tower construction from the Saraykoy district of Denizli. Colorful marble was brought from Marseille for the foundation and fountains.
Interesting Izmir Clock Tower Facts
The Clock Tower is the city's symbol and the tourist attraction of Izmir.
The architect of the Clock Tower is Raymond Charles Pere, who built the German Consulate in Izmir.
Today, a silver model of the Izmir Clock Tower is kept in Topkapi Palace in Istanbul.
There was a Clock Tower picture on the old 500 lira banknote, which was in circulation between 1983-1989.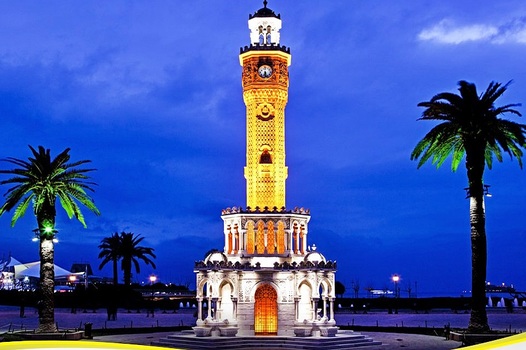 The stonework of the clock tower is decorated with geometric figures.
Four fountains surround the tower.
The tower's clock works tremendously and always shows the exact time.
The clock tower in Izmir has a twin: The Chacha Tower in Batumi.
Where is Izmir Clock Tower?
Izmir Clock Tower is located in Konak Square, next to the Izmir Metropolitan Municipality building.
How to get to Clock Tower?
You can reach Izmir Clock Tower by bus, metro, and ferry.