Discover the Enchanting Gomeda Valley in Cappadocia 2023: A Must-Visit Destination for Every Tourist
The Gomeda Valley offers a unique beauty. Cappadocia, a region in Turkey celebrated for its amazing landscapes, fascinating history, and vibrant culture, is home to many gems that attract tourists worldwide. One such gem, often overlooked in a rush to the fairy chimneys and underground cities, is the enchanting Gomeda Valley.
Situated a short distance from the bustling town of Mustafapasa, Gomeda Valley is a testament to the region's captivating natural beauty and history.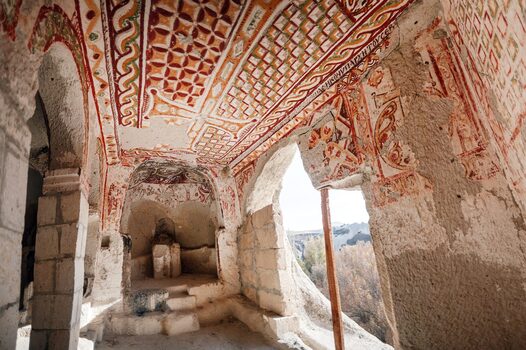 The valley is renowned for its tranquility, offering a welcome contrast to the more crowded sites in Cappadocia. It's an oasis of calm and serenity where you can embrace nature's charm, listen to the whispers of the wind, and let your mind wander amidst its raw beauty.
A Journey Through Time: The Historical Significance of Gomeda Valley
Steeped in history, this valley tells a tale that spans thousands of years. Its rugged landscape punctuates with ancient rock-cut churches, monasteries, and dwellings that witness the region's rich historical past. As you walk through this timeless wonder, the spirit of the bygone eras comes alive, offering a glimpse into the lives of the civilizations that once called this place home.
Nature's Masterpiece: The Stunning Landscapes of Gomeda Valley
Beyond its historical significance, this vital valley is also an exquisite showcase of nature's artistry. The valley's unique topography, characterized by its volcanic tuff formations, fairy chimneys, and ravines, offers an unparalleled spectacle. The lush vegetation adoring the valley and the charming stream that meanders through it further accentuate its allure.
The Perfect Destination for Adventure Seekers
For the more adventurous souls, this valley offers plenty of excitement. The valley's landscape makes it an ideal location for hiking, with trails taking you through its stunning vistas and historic sites.
The silence of the valley, broken only by the rustle of the leaves and the chirping of the birds, adds to the thrill of exploring this pristine location.
Experiencing Local Life: The Charm of Nearby Mustafapasa
A visit to this valley isn't complete without a stop at the nearby town of Mustafapasa. Once a Greek village, Mustafapasa is a delightful blend of cultures, best known for its historic stone houses, friendly locals, and traditional Turkish cuisine. It's the perfect place to experience the local way of life after a day of exploration in the Gomeda Valley.
In conclusion, the Gomeda Valley in Cappadocia is an enticing destination that combines natural beauty, history, and adventure, offering an unforgettable experience for every visitor. So, as you plan your trip to Cappadocia, ensure the Gomeda Valley is high on your list. Let the enchanting landscapes, fascinating history, and tranquil ambiance of Gomeda Valley captivate your heart and leave you with memories that will last a lifetime.
How to get to Cappadocia Gomeda Valley?
You can follow some steps to reach Cappadocia's Gomeda Valley:
·       Fly to Kayseri or Nevsehir: Cappadocia serves two airports, Kayseri Erkilet Airport and Nevsehir Cappadocia Airport. You can book a flight to either of these airports depending on availability and your preference.
·       Arrange transportation: Once you arrive at the airport, hire a taxi or shuttle to Cappadocia. Many hotels and tour companies in the area also offer airport transfers.
·       Travel to Goreme: The Gomeda Valley is near Goreme in Cappadocia. Depending on your budget and convenience, you can arrange transportation from the airport to Goreme by taxi, shared shuttle, or public bus.