Cappadocia Hot Air Balloon Season: The Ultimate Guide 2023
We answer your questions about Cappadocia hot air balloon season. Cappadocia is a mesmerizing region in Turkey known for its whimsical fairy chimneys, ancient rock formations, and breathtaking hot air balloon rides. But did you know that the experience can significantly vary based on the Cappadocia hot air balloon season?
This guide will delve deep into what each season in Cappadocia offers for balloon enthusiasts and also highlight the best Cappadocia hot air balloon company options to consider.
What Makes Cappadocia Hot Air Balloon Rides So Special?
Nestled in the heart of Turkey, Cappadocia is a testament to nature's artistry. A balloon ride here isn't just a regular flight – it's a magical journey through time, offering views of age-old landscapes and civilizations carved into the rock. But, just as with all beautiful experiences, timing is everything.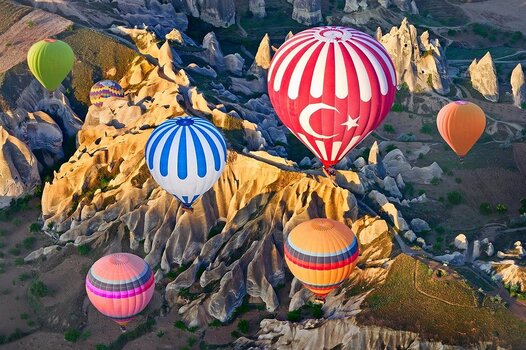 The Cappadocia hot air balloon season you choose can determine your flight's colors, views, and overall feel.
Understanding the Cappadocia Hot Air Balloon Season
Spring is often considered the best time for hot air balloon rides in Cappadocia. The temperature is mild, and the landscape is blanketed in many colors with blooming flowers. Rain can sometimes be a concern, so always check with the best Cappadocia hot air balloon company for weather updates.
Summer brings warmer temperatures and clear skies, making it another favorite for many balloon enthusiasts. However, it's also the peak tourist season, so expect larger crowds and book your ride well in advance.
Autumn (September to November)
Autumn in Kappadokien is a sight to behold. The changing foliage offers a palette of golds, reds, and oranges, contrasting beautifully against the blue sky. It's a great season for photography enthusiasts.
Winter (December to February)
Winter offers a unique perspective with snow-capped rock formations. However, flights might be less frequent due to weather conditions, so flexibility is critical. This is also the least crowded season, adding an intimate touch to your experience.
Choosing the Best Cappadocia Hot Air Balloon Company
Having the right company can make or break your experience. Here's what you need to consider:
Reputation: Always look for companies with excellent reviews and safety records.
Pilot experience: Experienced pilots can expertly navigate the landscape and weather conditions.
Fleet size and quality: Modern, well-maintained balloons are crucial for a safe and comfortable ride.
Considering these criteria, you will find the best Cappadocia hot air balloon company for a memorable experience.
Essential Tips for Your Balloon Ride
Dress in layers: Cappadocia hot air balloon season impacts the temperature, so dressing in layers ensures comfort throughout your ride.
Camera and binoculars: You won't miss capturing the breathtaking views!
Flexible booking: Weather can be unpredictable. Opt for flexible booking options for peace of mind.
Safety first: Always listen to your pilot and crew for safety instructions.
Your journey in the skies of Cappadocia will undeniably be one of the highlights of your life. Choosing the right cappadocia hot air balloon season and the company ensures a magical experience that will stay with you forever. So, plan wisely, fly safely, and let the beauty of Cappadocia take your breath away.