Food to Eat in Cappadocia: The Best Culinary Journey 2023
Food to eat in Cappadocia is essential for you. Some dishes you will never forget for the rest of your life. Discover the rich flavors of a region known for its fairytale landscapes, unique rock formations, and hot air balloon rides.
Beyond the mesmerizing visuals, Cappadocia offers a feast for the senses, with traditional dishes leaving you craving more. Here's a guide on the must-try food to eat in Cappadocia.
Introduction to Cappadocian Cuisine
Кападокия, located in central Turkey, is a dream destination for travelers seeking awe-inspiring landscapes and a haven for food lovers. The region's rich history and cultural blend have resulted in a myriad of savory and sweet dishes, making it a genuine food paradise.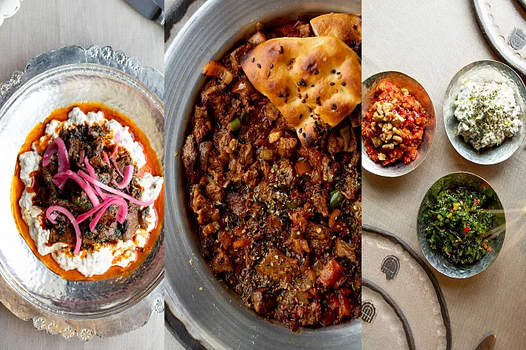 In this article, we delve deep into the various food to eat in Cappadocia, offering you a comprehensive guide to savoring the region's best.
A Peek into Breakfast Delights
Mixed breakfast: A unique breakfast spread incorporating olives, cheese, tomatoes, and locally baked bread.
Kayseri Pastirma: Cured beef sprinkled with fenugreek and garlic, a must-have to kick start your day.
Food to eat in Cappadocia: Delving into Main Dishes
Pottery Kebab (Testi Kebabi): A signature dish where meat, usually lamb or beef, is combined with vegetables and cooked in a sealed clay pot. Once cooked, the bank is traditionally broken open to reveal the delicious stew inside.
Manti: Tiny Turkish dumplings filled with minced meat, served with a generous helping of yogurt, and seasoned with spices. An absolute delight for those seeking the authentic taste of Cappadocia.
The Sweet Side of Cappadocia
When thinking about food to eat in Cappadocia, the main dishes might dominate your thoughts. However, desserts in this region are equally noteworthy.
Ashure: Known as Noah's pudding, this dessert is a delightful mix of grains, fruits, and nuts. A communal dish, Asure signifies unity and diversity.
Baklava: Thin layers of pastry filled with nuts and sweetened with syrup or honey. The crispy, sweet layers are a perfect end to any meal in Cappadocia.
Beverages: More than Just Turkish Tea
While Turkish tea is a staple, Cappadocia offers a variety of beverages to quench your thirst.
Ayran: A traditional Turkish yogurt drink, salty and refreshing.
Serbet: A drink made from fruits or flower extracts, sweetened and often served cold. Ideal for those hot Cappadocian afternoons.
Cappadocia's cuisine is a delightful blend of history, culture, and culinary innovation. From breakfast spreads that can keep you full for hours to hearty main dishes and delectable desserts, there's no shortage of food to eat in Cappadocia. So, on your next visit to this enchanting region, dive deep into its culinary wonders and treat your taste buds to an unforgettable journey.