Cappadocia to Pamukkale Private Transfer: Your Best Guide in 2023
Spend your time comfortably with Cappadocia to Pamukkale private transfer. When planning a trip to Turkey, two destinations often emerge as top picks: Cappadocia, its fairy-tale chimneys and hot air balloons, and Pamukkale, known for its dazzling white terraces.
Traveling between these iconic spots might be a puzzle for many tourists. That's where the Cappadocia to Pamukkale private transfer comes in, offering convenience, comfort, and a taste of luxury.
Why Opt for a Cappadocia to Pamukkale Private Transfer?
Navigating between two of Turkey's gems can be difficult, especially for first-time visitors. Here's why a Cappadocia to Pamukkale private transfer stands out: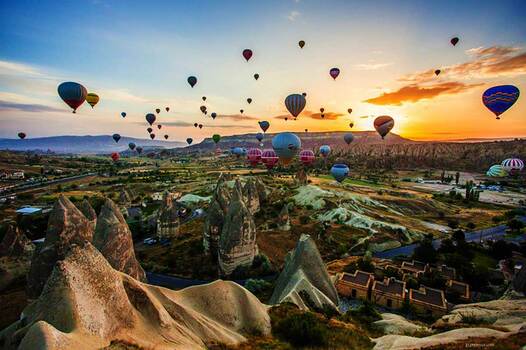 Unlike group tours, where a fixed schedule binds you, a private transfer lets you dictate the pace. Want to make a quick stop for photos or snacks? No problem.
Say goodbye to crowded buses. With a private transfer, you travel in style and utmost comfort, making your journey as memorable as the destination.
Vetted drivers who know the routes ensure your travel is comfortable and safe.
Making the Most of Your Journey
While the main idea behind a Cappadocia to Pamukkale private transfer is to get you from point A to B, it doesn't mean you can't make the most of the journey:
Scenic stops: The route is studded with lesser-known attractions. A private transfer gives you the liberty to explore them.
Local delights: Turkey is known for its culinary prowess. Your driver can recommend local eateries to tantalize your taste buds.
Cultural insights: Often, these private drivers double up as informal guides, sharing tidbits and stories, making the journey enlightening.
Cappadocia to Pamukkale Private Transfer: Cost and Booking Tips
A significant concern for many is the cost of a Cappadocia to Pamukkale private transfer. Here are some crucial points to keep in mind for this transfer:
| | |
| --- | --- |
| Aspect | Consideration |
| Booking in Advance | To get the best rates and ensure availability, booking your transfer well in advance is advisable. |
| Seasonal Variations | Prices might fluctuate based on demand. Traveling off-season might get you better deals. |
| Type of Vehicle | From luxury sedans to larger vans, the choice of vehicle can impact the cost. |
Preparing for Your Transfer
Once you've decided to go for a Cappadocia to Pamukkale private transfer, here's a quick checklist to ensure a smooth experience:
Pack light: While private transfers offer more space, it's always advisable to travel light.
Communicate preferences: If you have specific stops in mind or require special arrangements, communicate them at the time of booking.
Stay connected: Ensure you have a phone connection to stay in touch with your driver.
Local currency: Most transfers allow online payments, but having local money for on-the-go expenses is reasonable.
A Cappadocia to Pamukkale private transfer is ideal for those keen on experiencing Turkey without the usual hassles of transportation. It combines the freedom of solo travel with the convenience of a guided tour. So, as you draft your Turkish itinerary, considering this option might just be the secret ingredient to a perfect holiday!