Neck Lift in Turkey 2023 (The Best Guide)
A neck lift in Turkey is a procedure that is highly effective and highly demanded by people. Turkey has recently become a trendy tourist destination, including cosmetic surgery procedures such as neck lifts. Many people travel to Turkey for a neck lift due to the lower cost of the process than in Western countries and the high-quality medical care available.
If you are considering a neck lift in Turkey, it is essential to do your research and choose a reputable and experienced plastic surgeon. You can start by looking for clinics and surgeons with good reviews and a track record of success. It would be best if you also considered the logistics of traveling for a medical procedure, including travel and accommodation costs and the potential risks associated with international travel and surgery.
It is also essential to have realistic expectations for the results of a neck lift in Turkey and to understand the potential risks and complications associated with any surgical procedure. You should discuss these factors with your chosen surgeon and make an informed decision about whether neck lift surgery in Turkey is right for you.
Who are the Ideal Candidates for a Neck Lift in Turkey?
Ideal candidates for a neck lift are typically people with sagging skin, excess fat, or bands in the neck area and who want a more youthful and defined appearance. Check out some specific characteristics of ideal candidates for a neck lift in Turkey: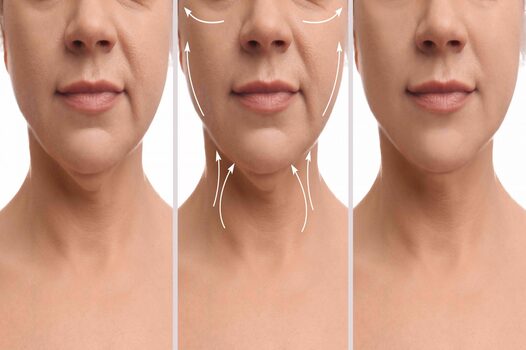 Good general health: Candidates should be in good public health and should not have any medical conditions that could affect the procedure's safety or the healing process.
Age: Most candidates for a neck lift are between the ages of 40 and 70. However, the procedure can also perform on younger or older patients.
Skin elasticity: Candidates should have good skin elasticity, meaning their skin should be able to bounce back after being pinched or pulled.
Neck appearance: Candidates should have visible signs of aging in the neck area, such as loose or sagging skin, excess fat, or visible bands on the neck.
Realistic expectations: Candidates should have realistic expectations about the procedure results and understand that a neck lift can improve the appearance of the neck but cannot completely erase all signs of aging.
How is Neck Lift Performed in Turkey?
The exact steps of a neck lift may vary depending on the specific techniques the surgeon will use.
First, surgeons typically give the patient local or general anesthesia, typically with sedation, to ensure the patient is comfortable and pain-free during the procedure. Surgeons will make incisions under the chin, behind the ear, or both, depending on their specific technique. The incisions are usually small and hidden to minimize scarring. Surgeons will then tighten the muscles in the neck to create a more defined jawline and eliminate visible bands in the neck. If excess fat is in the neck area, surgeons may remove or reposition it to improve neck contours.
Specialists will then remove excess skin in the neck area and tighten the remaining skin to create a smoother and more youthful appearance. In the final stage, doctors close the incisions with sutures or skin adhesive and apply a bandage to the area to protect and support the healing tissues.
How Much Does Neck Lift Cost in Turkey?
Neck lift cost in Turkey can vary depending on several factors, such as the surgeon's experience, location, complexity, and techniques used.
In general, neck lift prices in Turkey are lower than in many Western countries, making Turkey a popular destination for medical tourism.