Shopping in Side Turkey: An Ultimate and Best Guide 2023
Discover the mesmerizing allure of shopping in Side Turkey, where ancient history and modern consumer culture meet.
Nestled on the Mediterranean coast, this fascinating resort town offers a unique shopping experience that captures the essence of Turkey's cultural richness and diversity.
Exploring the Vibrant Side Centrum Shopping Scene
Step into the heart of Side, and you'll be immediately drawn to the lively buzz of the Side Centrum Shopping district. This vibrant hub brims with an array of traditional bazaars, stylish boutiques, and enchanting souvenir shops, offering everything from handmade Turkish rugs and ceramics to elegant clothing and intricate jewelry.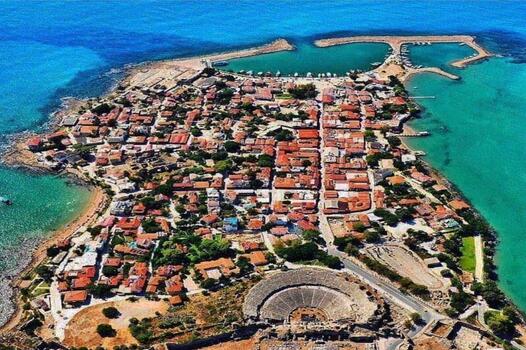 Navigating the maze-like streets of Side Centrum is part of the charm. Each turn reveals another storefront showcasing the craftsmanship and artistry of the local people. Handmade leather goods, intricately designed Turkish lamps, and fragrant spices are treasures you'll discover while shopping in this captivating district.
Experience the essence of Turkish culture through your senses as you take in the rich colors, evocative scents, and mesmerizing sounds of the bustling bazaar. Each shop offers a unique adventure, whether you're bargaining for a vintage kilim rug or sampling the delights of Turkish delight.
If you want to delve deeper into the local shopping culture, the debate often becomes Shoppen Side oder Manavgat. While Side offers the allure of coastal shopping amidst historical ruins, Manavgat provides a more expansive shopping arena, known primarily for its grand bazaar and Monday market.
Manavgat's Monday market is renowned for being one of the largest outdoor markets in Turkey. Here, you'll find an astonishing array of goods ranging from organic fruits and vegetables to textiles, shoes, and authentic Turkish souvenirs. It's a spectacle of colors, smells, and sounds that provide a raw and authentic shopping experience.
Aside from the market, Manavgat also boasts numerous shops selling traditional Turkish goods. The town is particularly famous for its textiles, making it a great place to buy high-quality Turkish towels, bed linens, and clothes at reasonable prices.
To get the best of both worlds, why not plan your trip to encompass the shopping experiences of both Side and Manavgat? This way, you'll fully immerse yourself in the region's diverse and vibrant shopping culture.
The Allure of Shopping in Side Turkey
To conclude, shopping in Side Turkey is more than just a retail experience—a cultural immersion. The blend of ancient history, vibrant marketplaces, and modern shops makes for an enchanting journey that allows you to taste, touch, and take home a piece of Turkey's rich heritage. Whether it's the vibrant Side Centrum Shopping scene or the grand markets of Manavgat, the region offers something for every kind of shopper.
Whether you're a seasoned bargain hunter or a curious traveler looking for a unique souvenir, you'll find shopping in Side Turkey an adventure in and of itself. So come prepared with an open mind, an adventurous spirit, and perhaps a little extra luggage space for all the treasures you'll discover. Shopping in Side Turkey is waiting for you. Happy shopping!