Discover the Hidden Gem of Turkey: Salda Lake 2023
Salda Lake, a world-renowned destination in southwestern Turkey, is a mid-sized crater lake with a captivating atmosphere that leaves every visitor in awe. This pristine natural wonder is home to various plant and animal species, making it an ecological paradise.
Situated on the edge of Burdur province, approximately 50 kilometers from the city center, Salda Lake is part of the Turkish Lakes Region, an area characterized by its numerous lakes and unique ambiance.
A Mesmerizing Beauty: The Allure of Salda Lake
The breathtaking beauty of Salda Lake has garnered international fame, with its white sands and turquoise waters earning it the nickname 'Maldives of Turkey.' This stunning setting provides the perfect backdrop for photo shoots, especially during sunrise and sunset, when the interplay of light, water, and sand creates a truly magical atmosphere.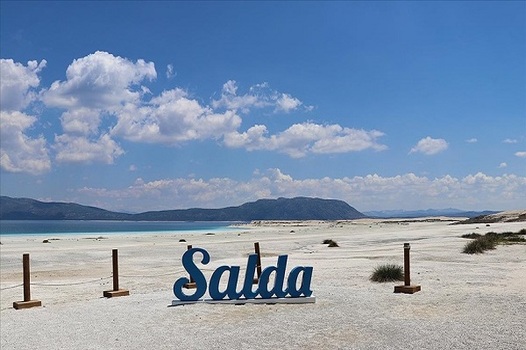 Getting to Salda Lake
A Journey to Paradise Located in the Yesilova district of Burdur Province, Salda Lake attracts domestic tourists and visitors from across the globe. Despite its remote location, the lake is easily accessible from the city center of Burdur Province.
To reach Salda from the Burdur city center, travelers can use public transportation, including buses designated explicitly for the lake and surrounding attractions. Touristic service buses and other tour options are also available, with rides departing from Burdur.
For those driving, take the D330 road from the city center until reaching Kiraatli Road. From there, it's just a one-hour, 76-kilometer drive to the lake. Alternatively, travelers can access Salda Lake from Isparta, a slightly longer route spanning 107 kilometers.
Embracing Nature: Activities at Salda Lake
Although water sports and other extreme activities are prohibited to preserve the lake's pristine condition, Salda offers a wealth of tranquil pursuits. Enjoy a peaceful picnic along the shoreline, surrounded by black pine forests that serve as a habitat for quails, hares, foxes, and other wildlife.
Photography enthusiasts will find ample opportunities to capture stunning images of the lake and surrounding forests, which teem with diverse plant and animal life. During the summer and spring months, visitors can swim in the lake's mineral-rich waters, which believe to have therapeutic properties for specific skin conditions. Be sure to photograph the lake's impressive white sand shoreline, particularly at sunrise and sunset, when the romantic, mesmerizing atmosphere is at its peak.
Accommodations near Salda Lake: Your Home Away from Home
As a protected area, no accommodations or buildings exist around Salda Lake. Instead, travelers can stay nearby Burdur or Isparta or lodge in Antalya while visiting the lake.
A morning visit to Salda is typically sufficient, but those wishing to swim an entire day in mineral-rich waters can do so. Local markets and restaurants provide food options, or visitors can bring their provisions.
Staying in a villa during your vacation allows for greater flexibility in exploring the area around Salda Lake and other lakes in the Turkish Lakes Region. With numerous activities, such as water sports and nature walks, Antalya holiday villas provide an excellent base for adventure.
Unforgettable Experiences at Salda
Savor the serenity of a lakeside picnic surrounded by the calming sounds of nature.
Visit Salda Lake during dawn or sunset for breathtaking views and unparalleled photo opportunities.
Take advantage of the healing properties of Salda Lake's mineral-rich waters by swimming during the summer or spring months.
Explore Turkey's diverse array of lakes in the Turkish Lakes Region, all conveniently located near Salda Lake.
Join trekking and hiking tours to discover the pine forests surrounding the lake, where you'll encounter unique flora native to the Salda area.
Sample the local seafood, including fish caught in Salda Lake, and shop for fresh, organic ingredients at nearby bazaars and villages.
Regardless of the season, immerse yourself in the soothing waters of Salda, feeling the soft white sand beneath your feet as you stroll along the shoreline.
Can you swim in the Salda Lake?
At Salda Lake, located in the southwestern region of Turkey, you can swim at several beaches, such as Yesilova Municipality Beach, Doganbaba Public Beach, and Salda Ministry of Forest Nature Park. The lake boasts some of the country's cleanest and most pleasant waters, offering swimmers a relaxing and refreshing experience. The ideal swimming season at Salda typically extends from June to September, when the weather and water temperatures are comfortable. So, whether you're a local or a visitor, plan a trip during this time to take full advantage of this beautiful natural wonder.