Cappadocia Honeymoon Package: The Ultimate Romantic Escape 2023
After months of wedding planning and the big day itself, you deserve a break, and what better way to unwind than with a Cappadocia honeymoon package?
This enchanting region of Turkey promises an unforgettable experience for newlyweds. Let's delve into what makes Cappadocia the ultimate honeymoon destination.
Explore the Mystical Fairy Chimneys
One of the defining features of Cappadocia is its iconic fairy chimneys. These stunning rock formations create an otherworldly landscape that is picturesque and steeped in history. As part of your Cappadocia honeymoon package, you can wander through these geological wonders, imagining the stories they might tell if they could speak.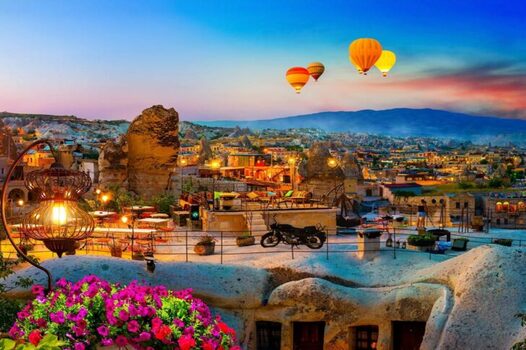 Nothing screams romance more than soaring over the captivating terrain of Cappadocia in a hot air balloon. Watching the sunrise over the vast valleys and unique rock formations is a memory you'll cherish forever. Every Cappadocia honeymoon package should include this breathtaking experience.
Table: Not-to-Miss Activities in Cappadocia
| | |
| --- | --- |
| Activity | Description |
| Hot Air Balloon | Watch sunrise or sunset from the sky. |
| Göreme Open-Air Museum | Explore ancient churches & frescoes. |
| Uçhisar Castle | Panoramic views from the highest point |
| Derinkuyu Underground City | Delve deep into history. |
You'll taste some of Turkey's most delectable dishes as part of your Cappadocia honeymoon package. From succulent kebabs to sweet baklava, Cappadocia offers a feast for the senses. Try local specialties like testi kebab – meat and vegetables cooked in a clay pot.
Relaxing Moments in Boutique Hotels
Cappadocia is home to several boutique hotels carved out of ancient caves, offering a unique blend of luxury, history, and charm.
Your Cappadocia honeymoon package might include stays in these enchanting accommodations, where you can bask in the ambiance of a bygone era while enjoying modern amenities.
Listing: Benefits of Choosing a Cappadocia Honeymoon Package
Hassle-free planning: Every detail, from accommodation to excursions, is handled.
Unique experiences: Offers activities and sights not found elsewhere.
Romantic setting: The landscape and culture provide an undeniably romantic backdrop.
Value for money: Bundled packages often provide better deals and exclusive offers.
A honeymoon is a once-in-a-lifetime experience, and choosing a Cappadocia honeymoon package ensures it's unforgettable. With its captivating landscapes, rich history, and sumptuous cuisine, Cappadocia offers the perfect setting for newlyweds to begin their journey together. Book your package today and prepare to be enchanted.