Uzungol Lake: A Hidden Gem of Turkey 2023
Uzungol Lake, nestled in the Northeast region of Turkey, offers an unmatched blend of natural beauty, cultural richness, and a wide variety of exciting activities. It is ideal for those seeking tranquility amidst the charming natural landscapes or the thrill of outdoor adventures.
From identifying the best hotel in Uzungol to exploring things to do in Uzungol, this comprehensive guide is a resource for all travelers looking to explore this enchanting lake town.
Things to Do in Uzungol
Uzungol is more than just a picturesque lake town. It's a hub for unique experiences that you won't find elsewhere. Here are some of the top things to do in Uzungol:
Explore Uzungol Lake: Embrace the serenity and natural beauty of Uzungol Lake, a destination that offers scenic views and a refreshing atmosphere. A stroll around the lake, a picnic by the lake's shore, or a boat ride in its calm waters can be a great way to immerse yourself in the beauty of this lake.
Experience paragliding: Paragliding Uzungol provides an adrenaline-filled experience for thrill-seekers. Fly over the beautiful landscapes of Uzungol and get a bird's-eye view of the verdant valleys, meandering rivers, and the glistening lake.
Visit cultural sites: Uzungol is rich in history and culture. From visiting local mosques to exploring the village of Caykara, there's plenty to keep history and culture enthusiasts engaged.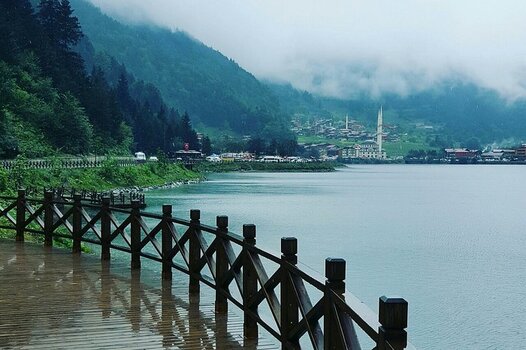 Uzungol Lake: Best Hotel in Uzungol
Choosing suitable accommodation can make your trip even more enjoyable. The best hotel in Uzungol provides comfort and amenities and offers captivating views of the lake and mountains. Here are a few of the most popular hotels you can choose from:
Inan Kardesler Hotel: This hotel is known for its warm hospitality, comfortable rooms, and restaurant serving delicious local dishes.
My Home Uzungol: A boutique hotel offering spacious rooms with lake views. It's a perfect choice for those seeking luxury and privacy.
Doga Resort Hotel: Located in the heart of nature, this hotel provides comfort, tranquility, and stunning views of the surrounding landscape.
Places to Visit in Uzungol
Beyond the lake, Uzungol offers several other places of interest that are worth exploring:
Soganli Mountain: The mountain range surrounding Uzungol Lake offers spectacular views of the region.
Garester Plateau: This is one of the places to visit in Uzungol for a peaceful time amidst nature. It's an ideal location for a picnic, with mesmerizing views of the valley.
Demirkapi Plateau: Another beautiful plateau in the vicinity, Demirkapı, is known for its vibrant flora and serene atmosphere.
Exploring Uzungol is an adventure in itself. Whether it's about relaxing by the beautiful Uzungol Lake, experiencing the thrill of paragliding Uzungol, discovering the best hotel in Uzungol, or exploring the many places to visit in Uzungol, this beautiful town has something for every traveler. So why wait? Start planning your trip to Uzungol today!