Fethiye Turkey 2023 (The Best and Most Detail Guide)
Fethiye Turkey is a town and resort town in southwestern Turkey on the Mediterranean coast. It is connected to the province of Mugla. It locates at the foot of the Lycian mountains, covered with pine and cedar forests. It is located 40 kilometers from Dalaman Airport. The city is great for beach vacations and fun. We recommend paragliding for those who like an active pastime.
Fethiye Turkey and Oludeniz represent a unique historical and ecological complex, in addition to elite conditions for recreation in the resort and charming hotels for the middle class on the coast. At first glance, it isn't easy to find anything in common between Alexander the Great, medieval knights, butterflies, and sea turtles. However, the Turkish resort of Fethiye combined these completely different concepts.
History of Fethiye Turkey
Fethiye Turkey is a historical town located on the southwestern coast of Turkey. It has a rich history, with evidence of human settlement dating back to the 6th century BCE. During the ancient period, it was known as Telmessos, a city of the Lycian civilization.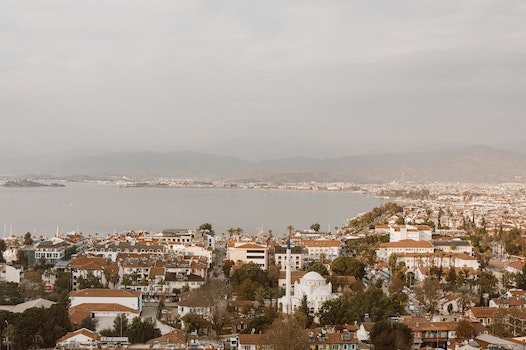 In the Byzantine era, it was an important center of Christianity, and later, in the Ottoman period, it became a major center for trade and agriculture. Fethiye is a popular tourist destination for its beautiful beaches, ancient ruins, and stunning scenery.
Places to Visit in Fethiye Turkey
Fethiye Turkey is a popular tourist destination and has many places to visit. Some of the most famous sights and attractions include:
Oludeniz Beach and Blue Lagoon: This is one of the most famous beaches in Turkey and is known for its turquoise waters and stunning scenery.
Butterfly Valley: This is a secluded beach surrounded by cliffs and is only accessible by boat.
Saklikent Gorge: This is a stunning natural gorge, around 18 km long and up to 300 meters deep, that is a popular destination for hiking and rafting.
Tlos Ancient City: This is an ancient city located on a hill near Fethiye and consider one of the region's most important archaeological sites.
Calis Beach: This is a long sandy beach located on the outskirts of Fethiye and is famous for its sunsets and watersports.
Tombs of the Kings: These are a series of rock-cut tombs from the Lycian period located on the cliffs above Fethiye.
Lycian Way: This popular long-distance hiking trail winds its way through the beautiful countryside of southwestern Turkey.
Fethiye Bazaar: This is the town's bustling market, where visitors can find local products, souvenirs, and street food.
These are just some of the many places to visit in and around Fethiye. Whether you are interested in history, nature, or just relaxing on the beach, there is something for everyone in this beautiful region of Turkey.
How to go to Fethiye?
There are several ways to travel to Fethiye Turkey, depending on your location and personal preferences. The closest airport to Fethiye is Dalaman International Airport, which is approximately 45 km from the district. You can take a taxi or shuttle to Fethiye from the airport. There are regular bus services between the big cities of Turkey and Fethiye. Journey time will depend on the starting point, but it is a relatively affordable and convenient option for those who don't mind a more extended trip.