Fethiye Tour from Antalya: Discovering the Aegean's Jewels 2023
A Fethiye tour from Antalya isn't just any ordinary excursion—it's a journey into the heart of the Aegean region, where ancient civilizations have left their mark and natural beauty remains unmatched.
If you're considering a trip, this comprehensive guide will unveil the secrets of what makes the Fethiye tour from Antalya an unparalleled experience.
Why Embark on a Fethiye Tour from Antalya?
The Aegean coastline of Turkey is speckled with numerous gems—each city or town bearing its unique charm. But a Fethiye tour from Antalya? It's an immersion into the history, culture, and scenic wonders that define this region.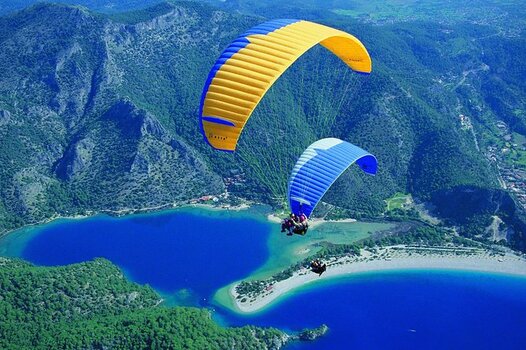 The Historical Significance of Fethiye
Nestled by the turquoise waters, Fethiye is a testament to the ancient civilizations that once thrived in this part of the world. The Lycian rock tombs, for instance, whisper tales of a time gone by, ensuring that history enthusiasts find plenty to marvel at.
Natural Attractions: More Than Just Beaches
While the beaches are undoubtedly enticing, there's more to the Fethiye tour from Antalya than just sunbathing. Paraglide over the stunning Oludeniz lagoon, trek the Lycian Way or simply bask in the beauty of the Butterfly Valley.
A tour isn't complete without indulging in the local cuisine. Relish the flavors of the Aegean region with its tantalizing mezze platters, fresh seafood, and, of course, the world-renowned Turkish delights.
What to Expect on a Fethiye Tour from Antalya?
Duration and distance: Antalya to Fethiye is approximately a 3-hour drive, covering 200 kilometers. This allows ample time to soak in the sights and experiences without feeling rushed.
Sightseeing stops: While the primary destination is Fethiye, the journey is peppered with exciting stops. Whether it's the ancient ruins of Xanthos or the pristine Patara Beach, there's plenty to see en route.
Transportation: Most tours offer comfortable buses or minibusses with air-conditioning and refreshments to ensure a pleasant journey.
Table: Key highlights of a Fethiye tour from Antalya
| | |
| --- | --- |
| Attraction | |
| Lycian Rock Tombs | Ancient tombs carved into cliffs offer a glimpse into Lycian burial customs and architectural prowess. |
| Oludeniz Lagoon | A stunning blue lagoon, ideal for paragliding and capturing breathtaking photographs. |
| Butterfly Valley | A secluded bay is known for its diverse butterfly species and pristine natural beauty. |
| Local Markets in Fethiye | Perfect spots to buy souvenirs and local crafts and taste street food delicacies. |
A Fethiye tour from Antalya is more than just a mere trip—it's an adventure that promises a rich blend of history, nature, culture, and gastronomy. If you're in Antalya and looking for an experience that encapsulates the essence of the Aegean region, this tour comes highly recommended. So, pack your bags, set forth, and let the wonders of Fethiye captivate your heart and soul!