Sword Valley Cappadocia: An Enigmatic Beauty Waiting to be Explored 2023
Nestled among the awe-inspiring landscapes of Turkey, Sword Valley Cappadocia emerges as a testament to nature's beauty and humankind's resilience.
A place where history and geography play a crucial role in shaping its narrative, it has become one of the prime destinations for those journeying to Cappadocia.
The History Behind Sword Valley
To truly appreciate the allure of Sword Valley Cappadocia, one must delve deep into its history. Legends whisper of ancient civilizations, harnessing the valley's unique geology to carve underground cities and churches. These structures are silent witnesses to countless battles, stories of love, and whispers of treachery.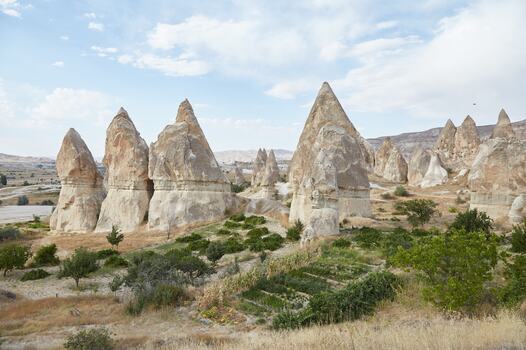 Sword Valley has been a melting pot of cultures, religions, and trade routes for centuries, with every rock echoing tales of bygone eras.
Sword Valley Cappadocia: Exploring the Wonders of the Valley
When you step into Sword Valley Cappadocia, prepare to be enchanted by its unique topographical marvels.
Fairy chimneys: These towering stone pillars, sculpted over time by nature, stand tall, casting shadows that dance with the shifting sun.
Underground cities: Venture deep below the earth and walk through labyrinths that once served as a refuge during conflict.
Rock churches: A testimony to the rich Christian heritage of the region, these structures, adorned with frescoes, offer a unique insight into the religious practices of the past.
But the valley isn't just about static structures. It's an ever-evolving canvas painted with the colors of the seasons. The sunsets here, especially, are a sight to behold, casting the entire valley in a golden hue.
Why is Sword Valley a Must-Visit in Cappadocia?
There's no shortage of breathtaking spots in カッパドキア. Yet, Sword Valley Cappadocia holds a special place in the hearts of many travelers.
Whether it's the thrill of hiking through its trails, the wonder of exploring its rock formations, or simply the calm of watching a sunrise, the valley offers an experience that is both unique and profoundly moving. If you're a photography enthusiast, the vistas here will provide you with shots that can grace any portfolio or gallery.
Tips for Touring Sword Valley
Before embarking on your journey to Sword Valley Cappadocia, you must be well-prepared. Here are some tips to enhance your experience:
Stay hydrated: The Turkish sun can be pretty intense. Carry ample water to stay hydrated.
Wear comfortable shoes: The terrain can be challenging, and having sturdy footwear will make your trek easier.
Local guides: Consider hiring a local guide. They possess deep knowledge about the valley's history and can offer insights not readily available in guidebooks.
Sunrise and sunsets: These are the best times to visit the valley. The play of light and shadow offers a magical experience.
Respect the environment: It's crucial to remember that while the valley welcomes visitors, we must leave no trace behind.
Sword Valley Cappadocia stands as a beacon of natural beauty and historical significance in the heart of Turkey. For those seeking an experience that touches both the heart and the soul, it is a destination that promises and delivers in equal measure. So, when you chart your next journey, ensure that the enigmatic beauty of Sword Valley is on your list. After all, some stories are best lived rather than told.