Best Street Food in Antalya 2023: A Culinary Journey Through the Streets
You should definitely taste the best street food in Antalya. Antalya, a gem on the Turkish Riviera, is renowned for its pristine beaches, historic sites, and delicious cuisine. But while most travelers are acquainted with kebabs and baklava, the city's true essence lies in its street food.
If you're hunting for the best street food in Antalya, you're in for a treat! Dive deep into the city's heart, discover dishes that tantalize your taste buds, and offer an authentic Turkish experience.
A Bite of Antalya's Culture
Every city has its unique flavor, and for Antalya, it's a melange of Mediterranean and Anatolian tastes.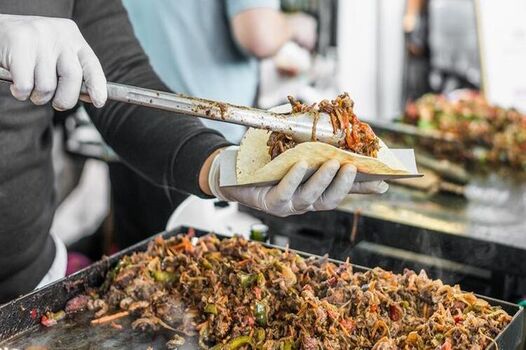 To understand its culture, one must taste its street food. The best street food in Antalya isn't just about the food; it reflects its people, traditions, and rich history.
Top 5 Must-Try Street Foods in Antalya
Here are 5 must-try street foods in Antalya:
Simit: Often referred to as the Turkish bagel, this sesame-covered bread ring is the perfect on-the-go snack. Paired with Turkish tea, it's the local's favorite breakfast item.
Gozleme: A thin pastry filled with various fillings like cheese, spinach, or potatoes. This delicious treat is cooked over a grill and served piping hot.
Lahmacun: Dubbed as the 'Turkish Pizza,' this thin crust delight is topped with minced meat, vegetables, and herbs. A squeeze of lemon and it's ready to be rolled and eaten!
Durum: A wrap filled with thinly sliced grilled meat, often lamb or chicken, fresh vegetables, and spices.
Kumpir: A baked potato with toppings like cheese, sausages, and olives. It's a meal in itself!
Street Food Markets – Where to Find the Best?
Antalya is bustling with markets and street vendors. The Kaleici district, with its narrow winding lanes, hosts a plethora of stalls serving the best street food in Antalya.
Another favorite spot is Konyaalti Street, with vendors serving everything from fresh fish sandwiches to sweet treats like 'lokma.'
Best Street Food in Antalya: Tips for Street Food Enthusiasts
Safety first: While the best street food in Antalya is generally safe, always ensure you eat from a clean vendor. Look for busy stalls; locals know where the best food is!
Do a taste test before you buy: Many sellers will offer you a sample, even if it is small. Don't be shy; try a little before committing to a more significant portion.
Carry cash: While some stalls may accept cards, having some Turkish lira on hand is best.
Beyond Food – The Experience
Embracing the best street food in Antalya isn't just about the flavors; it's the entire experience. The aroma of the spices, the hustle and bustle of the markets, and the joy of discovering a new favorite dish. It's a symphony for the senses and an absolute must for anyone visiting this enchanting city.
Table: Quick recap of best street foods
| | | |
| --- | --- | --- |
| Food | Description | Perfect for |
| Simit | Sesame bread ring | Breakfast |
| Gözleme | Filled pastry | Anytime snack |
| Lahmacun | 'Turkish Pizza' | Lunch/Dinner |
| Dürüm | Meat wrap | Hearty meal |
| Kumpir | Loaded baked potato | Filling lunch |
To summarize, the quest for the best street food in Antalya takes you on a culinary journey like no other. Every bite tells a story, a flavor-packed tale of the city's heritage and gastronomical prowess. So, the next time you find yourself wandering the streets of Antalya, make a pit stop at a local vendor and let your taste buds lead the way.