Pamukkale Tour from Istanbul: The Best Guide in 2023
Experience fun moments with the Pamukkale tour from Istanbul. When one thinks of Turkey, images of grand bazaars, exquisite mosques, and aromatic spices may come to mind. However, a gem deserves its spotlight – the breathtaking Pamukkale. If you're considering a Pamukkale tour from Istanbul, you're in for a treat.
This guide delves deep into what makes this tour one of the most sought-after experiences for tourists and locals.
Why Choose a Pamukkale Tour from Istanbul?
There's no shortage of attractions in Turkey, but Pamukkale stands in a league of its own. The literal translation of its name is a cotton castle, and once you witness the surreal terraces formed by mineral deposits, you'll understand why.
Engaging in a Pamukkale tour from Istanbul promises more than just sights; it's an immersion into the magic of nature intertwined with history.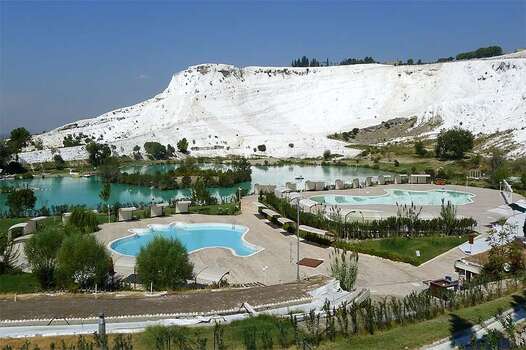 Making the Most of Your Trip
Spring and autumn are the ideal time to embark on a Pamukkale tour from Istanbul. The weather is mild, and the crowd is thin, giving you ample opportunity to enjoy the serenity of the terraces. Given that Pamukkale is a natural wonder, it's advisable to pack light and comfortable:
Sturdy walking shoes for exploring.
Light clothing for the daytime and a jacket for cooler evenings.
You should wear a hat and sunscreen to be completely protected from the sun's harmful UV rays.
A swimsuit if you plan to bathe in the thermal pools.
The Highlighted Attractions
The iconic cascading terraces, filled with warm, calcium-rich waters, are why many undertake the Pamukkale tour from Istanbul. They offer a therapeutic and visually mesmerizing experience.
Adjacent to the terraces lies the ancient Greco-Roman city of Hierapolis. Rich in history, this UNESCO World Heritage site is a testament to the civilizations that once thrived here.
Known also as Cleopatra's Pool, this thermal spring offers a unique swimming experience amid ancient Roman ruins. It's a rejuvenating stop on your Pamukkale tour from Istanbul.
Tips and Tricks for a Seamless Experience
Book in advance: Given its popularity, booking your Pamukkale tour from Istanbul in advance is a good idea to avoid any last-minute disappointments.
Stay overnight: While a day trip is possible, staying overnight gives you the advantage of experiencing the terraces in different lights – especially during sunrise or sunset.
Respect the environment: Pamukkale is a natural treasure. Ensure you follow all guidelines, especially regarding where you can walk or swim.
A Pamukkale tour from Istanbul is more than just a journey between two destinations. It's an experience that encapsulates the heart of Turkey's natural and historical wonders. Whether you're a history buff, nature lover, or looking to immerse in the tranquility of thermal waters, this tour promises an unforgettable experience.