Day Trips from Lara Beach: Top Getaways to Elevate Your Vacation 2023
Enhance your entertainment with day trips from Lara Beach. Lara Beach, situated in Antalya, Turkey, is a traveler's haven with its pristine sands and turquoise waters.
The vicinity of Lara Beach offers numerous possibilities for day excursions that are both thrilling and awe-inspiring. This comprehensive guide will delve into some of the best day trips from Lara Beach to help you get the most out of your stay.
Exploring the Ancient Ruins of Perge
Just a short drive from Lara Beach, the ancient city of Perge offers a deep dive into Turkey's rich history. Walking through its ruins, one can almost hear the whispers of gladiators, merchants, and ancient Greeks who once called this city home.
From the grand stadium to the remnants of the Roman baths, a day trip to Perge is nothing short of a journey through time.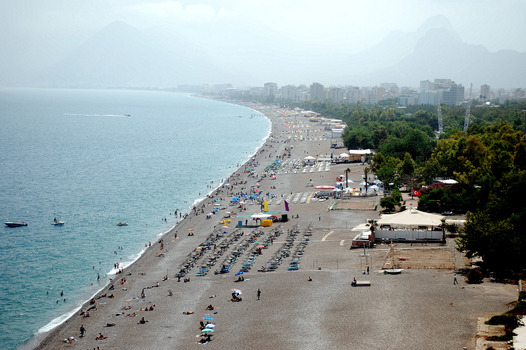 Day Trips from Lara Beach: The Natural Wonders of Duden Waterfalls
Water crashing down from lofty heights and enveloping the surroundings in a refreshing mist – the Duden Waterfalls is a sight to behold. Located just a few kilometers from Lara, it is a perfect escape from the beach's hustle and bustle.
Whether you prefer the upper or lower waterfalls, the scenery and relaxed atmosphere make it a must-visit on your list of day trips from Lara Beach.
Sail to the Enchanting Kekova Island
A combination of sparkling waters, sunken ruins, and tranquil surroundings makes Kekova Island an unforgettable destination. Accessible by boat, this day trip takes you to the remnants of a submerged town, offering an underwater adventure like no other.
Top Attractions at Kekova Island
Sunken City of Simena
Kekova Bay
Simena Castle
Tersane Bay
A Deep Dive into the Karain Cave
If you're keen on exploring geological wonders and prehistoric sites, a trip to the Karain Cave is a fantastic choice.
Serving as a residence for prehistoric humans for thousands of years, this cave is a treasure trove of history and natural beauty.
Stroll through the Streets of Kaleici
No day trips from Lara Beach would be complete without exploring the old town of Kaleici in Antalya. With its narrow winding streets, ancient stone houses, and historical landmarks, Kaleici offers a delightful blend of the old and new. Critical spots in Kaleici:
Hadrian's Gate
Hidirlik Tower
Old Harbor
Yivli Minaret
While the allure of Lara Beach, with its golden sands and azure waters, is undeniable, the surrounding regions offer a wealth of experiences that are too good to pass up. From historical ruins and natural wonders to quaint towns and bustling city centers, day trips from Lara Beach are abundant in variety and experiences. So, strap on your explorer hat, and embark on these adventures to make your vacation memorable.