Things to Do in Fethiye at Night (The New and Best Guide 2023)
You've come to the right place for things to do in Fethiye at night. This city, a stunning coastal town in Turkey, is renowned for its azure waters, historic sites, and vibrant nightlife. But what exactly are the best things to do in Fethiye at night?
Whether you're a budget traveler or someone seeking luxury, this town covers you. From soaking up the old city's ambiance to experiencing the beach parties' thrills, myriad activities keep you engaged after sunset.
Delving into Fethiye's Nightlife
Fethiye isn't just about sun-soaked days by the beach or exploring Lycian ruins. Once the sun sets, this town transforms into a hive of activity. Here's a curated list of things to do in Fethiye at night: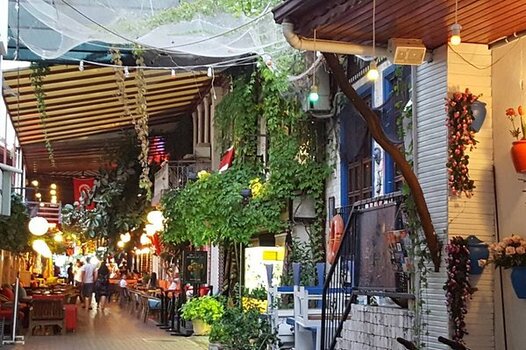 Wander Around Paspatur, The Old Town
The old town, also known as Paspatur, is the heart of Fethiye's nightlife. Brimming with restaurants, cafes, and boutiques, the cobbled streets come alive with locals and tourists alike. It's one of the free things to do in Fethiye. Grab a drink, savor local cuisine, and soak up the ambiance.
Things to Do in Fethiye at Night: Beach Parties at Calis Beach
Fethiye's Calis Beach isn't just for daytime sunbathing. It's among the best places to visit in Fethiye for night owls. With beachfront bars and clubs hosting parties, it's the place to dance your heart out with the Mediterranean Sea as your backdrop.
Attend a Traditional Turkish Night
Attending a traditional Turkish night is a must to get a taste of local culture. These events, often held at hotels and unique venues, blend folk dances, music, and delicious Turkish cuisine.
Night Bazaars and Shopping
Shopping enthusiasts can explore the night bazaars. Filled with handicrafts, souvenirs, and local products, these markets are perfect for those looking for free things to do in Fethiye at night. If you're up for haggling, you might walk away with unique finds at a bargain!
Romantic Boat Trips Under the Stars
For couples or those seeking a serene experience, nighttime boat trips offer an unparalleled view of Fethiye's coastline. Gaze at the stars, enjoy the gentle sway of the boat, and relish the cool breeze.
Several rooftop bars in Fethiye provide panoramic views of the town and harbor. These spots, some of the best places to visit in Fethiye, offer a perfect blend of ambiance, music, and top-tier cocktails.
For the brave-hearted, a nighttime visit to the ghost village of Kayakoy can be an eerie experience. Though it's not for everyone, it's undoubtedly a unique way to spend the evening.
Fethiye's nighttime offerings are as diverse as they are enchanting. Whether you're searching for free things to do in Fethiye or want to splurge on a luxurious night out, there's no shortage of activities to keep you entertained. As you plan your trip, include some of these things to do in Fethiye at night in your itinerary.